The Dress Factury
------------------------------------------------------------------------------------------------------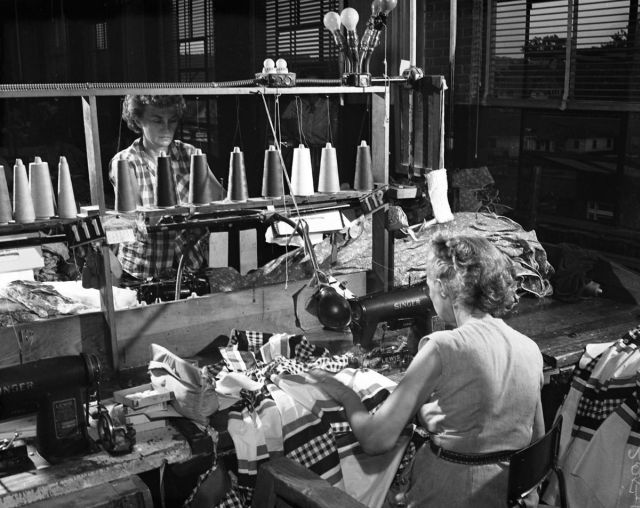 Originally built in 1921 as the home of the O.L. Stanard Dry Goods Co.,
the five-story building on the northwest corner of 7th Avenue
and 10th Street later housed a series of dress companies
------------------------------------------------------------------------------------------------------
HUNTINGTON — In 1921, Oscar Lee Stanard constructed a five-story building at the
northwest corner of 7th Avenue and 10th Street to house his business, the O.L. Stanard
Dry Goods Co. The company went out of business in the early 1930s,
and the building was then briefly occupied by a grocery business.
Beginning in 1936, the structure was occupied by series of dress factories.
Over the years, the factory changed ownership and names several times.
First, it was known as the Sterling Company. During World War II,
the facility manufactured tents and uniforms for American troops.
Around 1947, the factory was taken over by another
dressmaker, Reliance Manufacturing Company,
an Indiana company.
By 1954, the facility had again changed names to the Huntington Manufacturing
Company, and by 1959 was making 180,000 dresses each month. John F.
Kennedy visited the dress factory during his successful 1960 primary
campaign for the Democratic presidential nomination.
By the 1970s, the facility again had a new name, Huntington Industries,
a successor company to the Huntington Manufacturing Company.
Through the years, the dress factory employed hundreds of
Huntington women and became known for its discard
sales, which allowed members of the community
to buy the factory's discarded
fabric and dresses.
After operating for half a century as a garment factory, the building
was left to sit vacant when Huntington Industries went out of
business in 1983. The structure remained unoccupied
until 1998, when it was purchased by the city
of Huntington and repurposed to become
the Jean Dean Public Safety Building.
Today it houses the Huntington Police Department
and the J. Seaton Taylor Municipal Court.
-----------------------------------------------------------
Note: This Article and picture appeared in the Herald-Dispatch Newspaper on June 8, 2021.
-----------------------------------------------------------
[ Back ]