The Emmons Apartment
------------------------------------------------------------------------------------------------------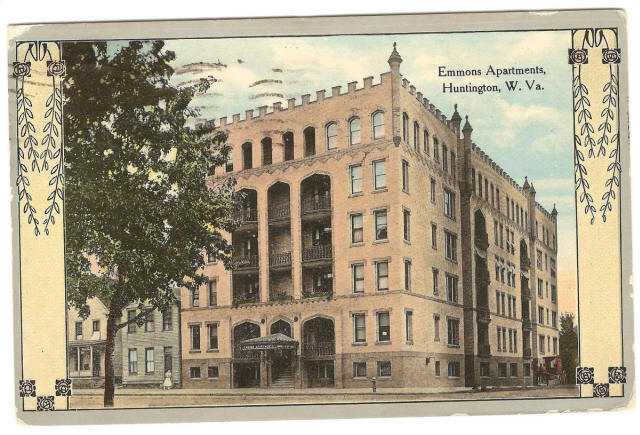 This vintage postcard of the Emmons Senior was mailed in 1912. In a note on the
back, the writer pronounced Huntington "a nice little city".
------------------------------------------------------------------------------------------------------
HUNTINGTON -- The name "Emmons" is one that's written large in Huntington's history.
Given his far-flung business interests, rail tycoon Collis P. Huntington could spend little time in the
new town he founded in 1871 as the western terminus of his Chesapeake & Ohio Railway.
He needed somebody he could put in charge in his absence. He found that man in his
brother-in-law, Delos W. Emmons, who had married Huntington's sister Mary.
It was Emmons who oversaw the sale of the first lots sold in the new town. He was
elected to the first City Council, served on a committee to build the city's first
schools and was a director of the newly organized Bank of Huntington.
Three of his sons played significant roles in the city's early history. Carlton Emmons was a
partner in the Emmons & Hawkins Hardware Co., for many years the largest wholesale
hardware business in West Virginia. J. Alden "Ollie" Emmons ran a furniture factory
and in 1890 was elected an officer of the Huntington Board of Trade,
a predecessor of the Huntington Regional Chamber of Commerce.
But it was Arthur S. Emmons who left the most visible stamp on the city when he built the
two-building Emmons Apartments complex at 3rd Avenue and 12th Street. The
Emmons Senior was erected in 1910 and the adjacent Emmons Junior in 1924.
The two buildings once were considered the premier apartments in the city.
On Jan. 13, 2007, when a fire started in a closet at the Emmons Junior,
flames quickly raced through the building and spread to the Emmons
Senior. One of the worst fires in the city's history, the blaze claimed
the lives of nine people. The two buildings were damaged beyond
repair and were demolished. Today, the site remains a vacant lot.
-----------------------------------------------------------
Note: This Article and picture appeared in the Herald-Dispatch Newspaper on March 10, 2014.
-----------------------------------------------------------
[ Back ]