The Fesenmeier Brewery
------------------------------------------------------------------------------------------------------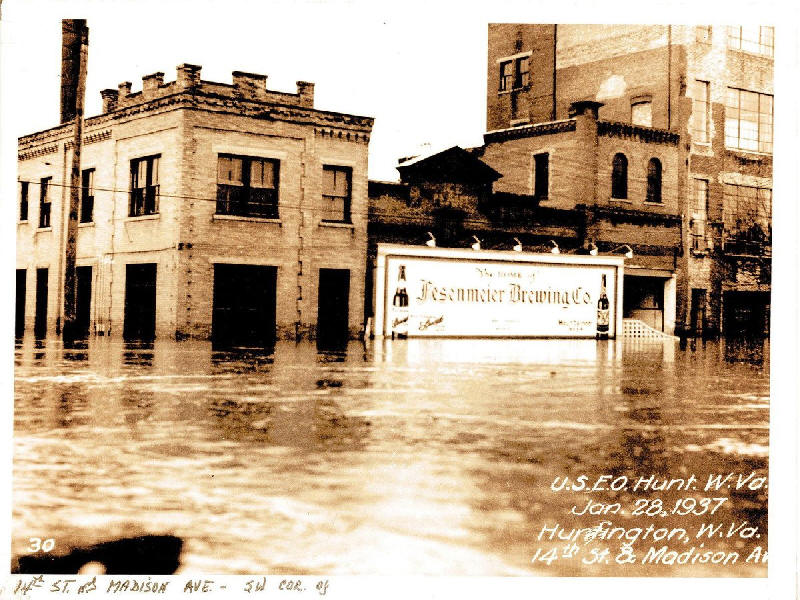 The Fesenmeier Brewery survived both the 1913 flood and, as seen here, the 1937 flood.
------------------------------------------------------------------------------------------------------
HUNTINGTON -- When the former Fesenmeier brewery closed in 1971,
it marked the end of West Virginia's once-flourishing brewing industry.
The Fesenmeier family came to America from Germany in 1851, when Michael Fesenmeier
brought his bride to a farm in Cumberland, Maryland. He had learned to make beer as a boy in Germany,
and shortly after the Civil War he began a small brewery on his farm. The brewery soon outgrew its small
quarters and was moved to Cumberland proper, where it continued to grow under Fesenmeier and his sons.
After the elder Fesenmeier's death in 1893, his sons continued to run the brewery. In 1899, when another
expansion seemed in order, they came to Central City and purchased a defunct brewery that had been built
at Madison Avenue and W. 14th Street in 1891. They reopened it under the name West Virginia Brewing
Co. Soon the brewery was widely known as the home of "West Virginia Special Export" beer. When
his brothers returned to Maryland, John J. Fesenmeier stayed on to run the business here.
The brewery survived a disastrous fire in 1905 and the flood of 1913 but it couldn't survive the state of
West Virginia's enactment of Prohibition in 1914, five years before the rest of the country.
John J. Fesenmeier converted the business into a meat-packing plant. When he died in 1922,
his brother Michael returned from Maryland and converted the plant to an ice and ice cream business.
Sensing that Prohibition was soon to be lifted, the company took a gamble, installed $300,000
worth of modern brewing equipment and began brewing and stockpiling beer. On May 5, 1934,
the first day that beer could again be legally sold, the company - now renamed the
Fesenmeier Brewing Co. - had 250,000 gallons ready for the thirsty Huntington area.
For the next couple of decades the company thrived, but ultimately the national beer brands like
Budweiser and Miller, with their multi-million-dollar advertising and marketing budgets, squeezed
small brewers like Fesenmeier out of business. In 1968, the brewery was sold to Robert Holley of
Huntington, who operated it as the Little Switzerland Brewing Co. until filing for bankruptcy in 1971.
A year later the block-long brewery building was demolished to make way for a shopping center parking lot.
-----------------------------------------------------------
Note: This Article and picture appeared in the Herald-Dispatch Newspaper on Oct. 27 , 2014
-----------------------------------------------------------
[ Back ]