The First C&O Depot
------------------------------------------------------------------------------------------------------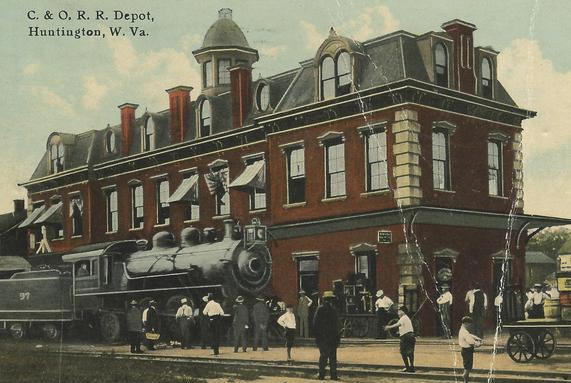 ------------------------------------------------------------------------------------------------------
HUNTINGTON — When rail tycoon Collis P. Huntington bought a mostly vacant stretch of river bottom
to be the western terminus of his Chesapeake & Ohio Railway, he ordered the immedi­ate construction
of extensive car and locomotive shop facilities, two rows of houses for the railroad's
workers and a three-story passenger depot. This vin­tage postcard, postmarked
in 1911, offers a good view of the ornate depot.
The depot was completed and ready for use in 1872, even before the new rail line was
finished between Huntington and Richmond, Va. The first train from Richmond,
carrying a number of VIPs, arrived in Huntington's new town on
Jan. 29, 1873, setting off a wild celebration.
Reporting on the train's arrival, The Whig, a Richmond newspaper, wrote: "Punctual to the hour,
the headlights of the engine appeared around the bend and she rushed screaming into the town.
The first train from Richmond to Huntington! To say that the occupants of the train were
welcomed would be a feeble way of expressing the enthusiastic display. A yell burst
forth as they came up to the platform and the passengers were almost dragged out
by eager hands." The C&O's first Huntington depot would welcome passengers
for the next 40 years. By 1913, the old depot was show­ing its age and so the
railroad built a new depot of Georgian design, similar to sta­tions it built
in some of the other large communities it served.
The old depot was then demolished.
For decades, the C&O's passenger trains were part of the daily fabric of life in Huntington.
But in the years after World War II, growing competition from the airlines and the
nation's new inter­state highways wrote an end to railroad passenger service.
The last C&O pas­senger train pulled out of the 1913 depot on
April 30, 1971. Today, CSX Transporta­tion, te corporate
successor to the old C&O, uses the building
to house various offices.
-----------------------------------------------------------
Note: This Article and picture appeared in the Herald-Dispatch Newspaper on Mar. 03 , 2014
-----------------------------------------------------------
[ Back ]