The Five and Dimes
------------------------------------------------------------------------------------------------------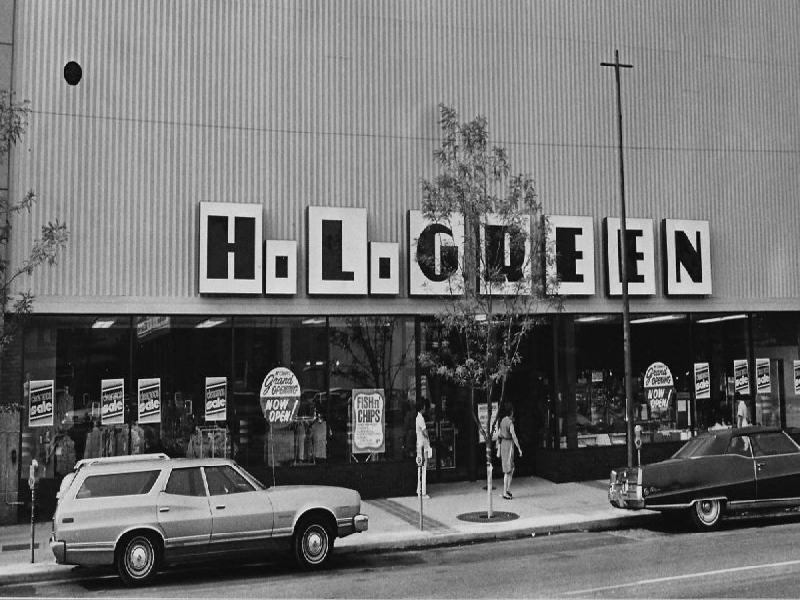 Huntington H. L. Green store openes in 1928 and closed in 1992.
------------------------------------------------------------------------------------------------------
HUNTINGTON -- There was a time when no shopping trip to downtown Huntington was complete without
a visit to one or more of the five and dime stores that lined Huntington's 3rd Avenue. Four of
the stores were located in the same 900 block of the avenue. All are gone now, of course.
Frank W. Woolworth is credited with originating the concept of a store offering only inexpensive items.
Before Woolworth the thinking was that no store could long survive by selling only low-cost goods.
His first store failed, but he went on to open a successful store in Lancaster, Pennsylvania,
in 1879 and the firm he founded, the F.W. Woolworth Co., soon opened stores across
the country. Huntington had its own Woolworth's store at 917 3rd Ave.
Other businesses quickly copied Woolworth's formula. John Graham McCrory opened his first
store in Scottsdale, Pennsylvania, in 1882. It's said that Huntington's McCrory's store
at 905-907 3rd Ave. was one of the earliest opened as the
company expanded to an eventual 1,300 stores.
Sebastian Kresge was one of the early investors in the McCrory chain. He later
went on to found his own chain of stores, the S.S. Kresge Co.,
which opened a store at 943-945 3rd Ave. in 1915.
William Thomas Grant opened his first W. T. Grant Co. "25-cent store" in Lynn, Massachusetts, in 1906.
The Grant's chain ultimately grew to almost 1,200 locations, including a Huntington store at 949 3rd Ave.
In recent years, Dr. Joseph B Touma has purchased and painstakingly restored
a number of downtown Huntington buildings, including the Woolworth,
McCrory, Kresge and Grant store buildings.
Another five and dime, H.L. Green, came along much later than its competitors. It opened its Huntington
store at 833 3rd Ave. in 1928. The photo included with this article shows the H. L. Green facade after the
store underwent an extensive 1975 remodeling that included new counters, flooring, ceiling and lighting.
H.L. Green was the last surviving Huntington five and dime store when it closed in 1992
-----------------------------------------------------------
Note: This Article and picture appeared in the Herald-Dispatch Newspaper on Sep. 28 , 2015
-----------------------------------------------------------
[ Back ]