The Gateway Hotel
------------------------------------------------------------------------------------------------------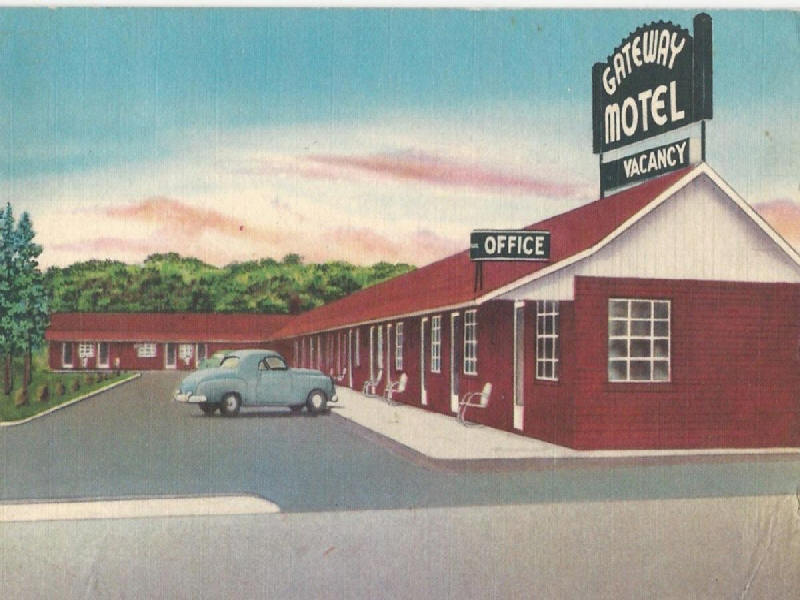 This vintage postcard, mailed in 1956, promised the Gateway guest
"Southern Hospitality and Modern Comfort"
------------------------------------------------------------------------------------------------------
HUNTINGTON — In 1954, what initially was called the Gateway Hotel opened on U.S. 60 East with 18 guest rooms.
By 1956, when the vintage postcard shown here was mailed, it had grown to 22 units. In the mid-1960s, the hotel
dramatically expanded with construction of a 250-room wing. A conference center was added in the 1980s
and the property became known as the Gateway Inn and Conference Center.
As the largest hotel in the Tri-State, the Gateway Inn, owned and operated by the Booten family
through its Booten Realty Co., was a popular spot for conventions and other gatherings.
Its restaurant, known for its home-style menu, had a loyal following of regular diners.
For a number of years, the Gateway operated as a Holiday Inn. But in 1997, even though the
Bootens had just spent $200,000 on renovations, Holiday Inn pulled its franchise,
saying the hotel no longer was in compliance with its standards.
Later that year, the hotel acquired a Best Western franchise.
After years of financial problems, the Gateway filed for bankruptcy. In 2001, after more than
three years of legal wrangling, the hotel closed its doors. More than 2,000 items - everything
from tea cups to cash registers, carpets to ceiling tiles, small appliances to industrial-sized
kitchen mixers - were sold at a public auction when the hotel's belongings were put on the block.
Today, the site of the former Gateway Inn has been redeveloped as River Place, a mixed-used
development with three dozen tenants, including Tascali's Decades Pasta & Grill,
The UPS Store, Los Mariachis Mexican Restaurant, Goodwill Industries,
Absolute Fitness, Dr. Amy Vaughan Dermatology and others.
-----------------------------------------------------------
Note: This Article and picture appeared in the Herald-Dispatch Newspaper on Feb. 09 , 2015
-----------------------------------------------------------
[ Back ]