The Holderby Mansion
------------------------------------------------------------------------------------------------------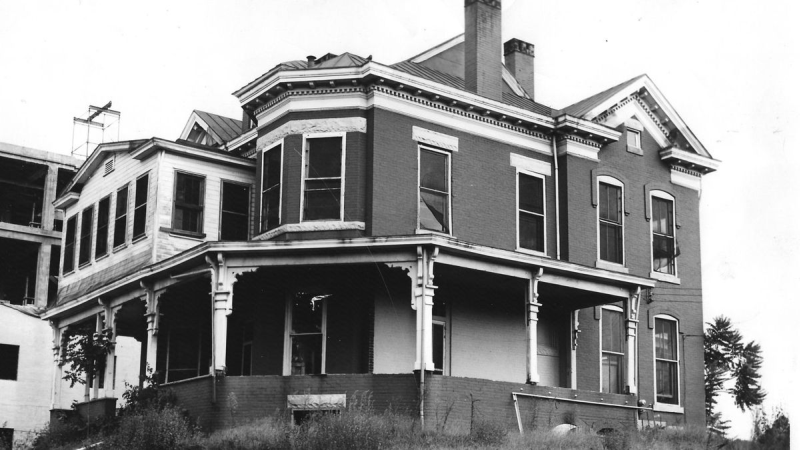 The 15-room Holderby Mansion, built by Edward S. Holderby in 1880, was Demolished
in 1954, shortly after this photograph was taken.
------------------------------------------------------------------------------------------------------
HUNTINGTON -- Along with his brothers, William H. and Robert, James Holderby (1782-1855) owned much
of the land that today comprises Huntington. On his death, he divided his property between his two sons.
William Holderby inherited a vast tract of farmland fronting on the Ohio River, the site of a river wharf that
carried the family name - Holderby's Landing. There he built an impressive mansion that burned in the 1930s.
Edward S. Holderby was given an equally large tract of land immediately south of his brother's holdings,
stretching to today's Washington Boulevard. In 1880, he spent $5,000 to build his own mansion
on a hillside site overlooking what would become today's Hal Greer Boulevard.
Edward Holderby died in 1890, a decade after building his house. After his death, his widow, Columbia,
and their three daughters - Emma, Said and Lucy - continued to live in the 15-room mansion.
It's said that as youngsters the girls enjoyed roller skating in the house's spacious attic. In winter,
they hitched up horses from the Holderby stables and went sleigh riding. Eventually the girls
grew up, married and moved from the family home. From time to time,
younger members of the family occupied the house.
Mrs. Holderby died in 1930, and in the following year the heirs sold the old house
to the county, which for the next 20 years used it as the Cabell County Detention Home for youthful offenders.
When construction began on Cabell Huntington Hospital at a site just downhill from the house,
the county closed the Detention Home. The structure was briefly used as a headquarters
for the hospital construction crews and then, in 1954, was demolished.
-----------------------------------------------------------
Note: This Article and picture appeared in the Herald-Dispatch Newspaper on June 6 , 2016
-----------------------------------------------------------
[ Back ]