The Hotel Farr
------------------------------------------------------------------------------------------------------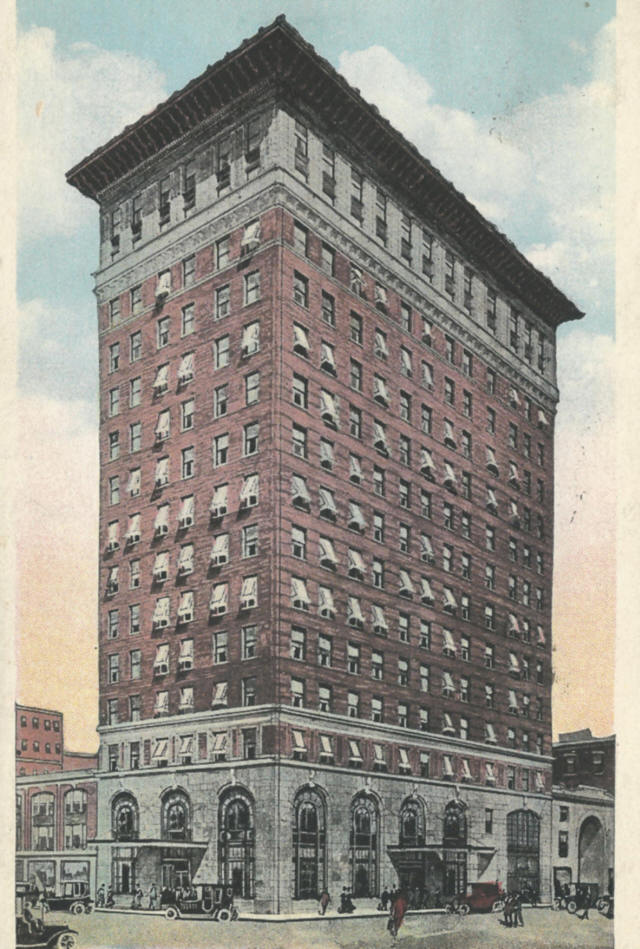 Coal operator John S. Farr originally planned that his new hotel would, as shown in this
vintage postcard, be 14 stories. But soaring construction coast during World War 1
forced him to halt work at seven stories.
------------------------------------------------------------------------------------------------------
HUNTINGTON -- On Nov 14, 1918, James Shaw, a pottery salesman from Philadelphia,
became the first guest to register at the Farr Hotel, newly constructed on the southwest
corner of 4th Avenue and 9th Street in downtown Huntington. Over the years,
the Farr would prove to be a favorite with business travelers.
Originally the hotel was planned to be 14 stories, but soaring construction costs
during World War I forced coal operator John S. Farr to halt work at
seven stories. Farr hoped to later add seven more stories but never did so.
The vintage postcard illustrating this article shows the original 14-story design
by the Huntington architectural firm of Meanor & Handloser. As built,
the hotel would be only half as tall, with 125 rooms
rather than the 250 originally envisioned.
In the 1930s the Massachusetts Mutual Life Insurance Co. bought the
hotel and changed its name to the Governor Cabell Hotel, named after
William H. Cabell, the governor of Virginia from 1805 to 1808.
The old hotel closed in 1965 and the building, renamed Cabell Hall,
was leased for use as a residential facility for the
Huntington Women's Job Corps Center.
In 1941, Massachusetts Mutual had sold the building to the West Virginia Grand Lodge
of the Independent Order of Odd Fellows. In 1975, the Odd Fellows sold the
building to Helen Morris, the widow of real estate broker
Taylor Morris, who renamed it the Morris Building.
In recent years, the former hotel housed a variety of offices,
apartments and businesses. On July 27, 2014, an early-morning
fire damaged the building, which remains vacant.
A faded sign reading "Hotel Farr - Fireproof" can still be
seen at the top of the building's south wall.
-----------------------------------------------------------
Note: This Article and picture appeared in the Herald-Dispatch Newspaper on Dec. 6, 2016.
-----------------------------------------------------------
[ Back ]