The Huntington Hornets
------------------------------------------------------------------------------------------------------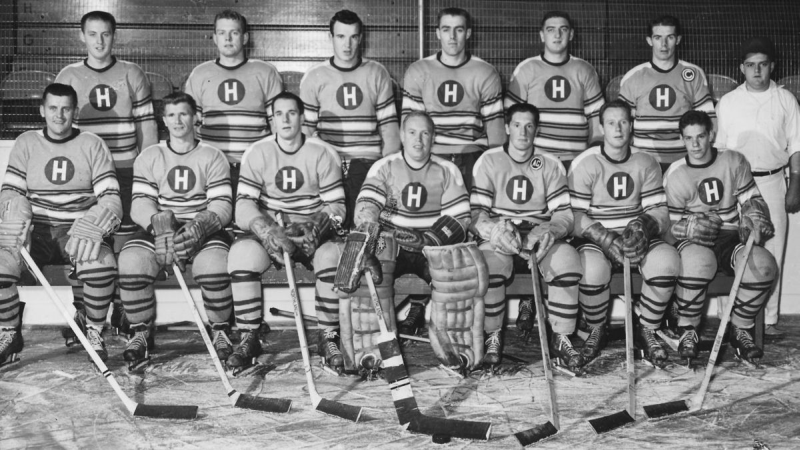 The Huntington Hornets Minor-league hockey team played one season (1956 - 1957) at
Veterans Memorial Field House before being moved to Louisville, KY.
------------------------------------------------------------------------------------------------------
HUNTINGTON -- In the summer of 1956, the owners of the Stadium Arena in Grand Rapids,
Michigan, decided to turn the building over to a department store.
That sent the local minor-league hockey team, the Grand Rapids Rockets, looking for a new home.
Team owner Ernie Berg ended his search in Huntington, where Veterans Memorial Field House had a
regulation-size ice rink and in the 1950s had hosted a handful of games for the visiting Miami Valley Bruins.
Thus, for the 1956-57 season the Grand Rapids Rockets became the Huntington Hornets.
The team proved moderately successful.
At the end of the season it finished in third place in the six-team
International Hockey League, earning a spot in the playoffs.
But the team's success on the ice wasn't matched at the box office. The Hornets had an enthusiastic
but decidedly small fan base. Unhappy with the team's poor attendance, Berg put it up for sale.
The web site HockeyDB.com recounts what happened next: "Initially, a local Huntington group headed
by wrestling and boxing promoter Dick Deutsch expressed interest in buying the team,
however they could not raise the $30,000 asking price.
"A group of citizens offered $9,000 for the team, then later offered $15,000,
however those offers were rejected, and a counteroffer of $22,000
from Berg could not be met by the local group.
"The team was eventually sold to interests who moved it to Louisville, Kentucky,
where it became the Louisville Rebels."
Professional hockey would return to Huntington in 1993, when the Huntington Blizzard
played the first of seven seasons at the Civic Center.
-----------------------------------------------------------
Note: This Article and picture appeared in the Herald-Dispatch Newspaper on Apr. 04, 2016
-----------------------------------------------------------
[ Back ]