The Jones Hotel
------------------------------------------------------------------------------------------------------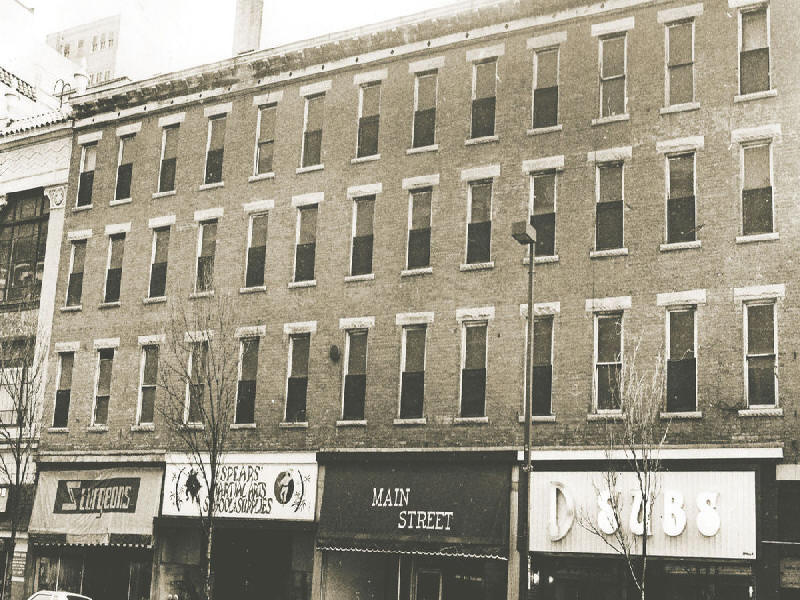 This 1985 photograph shows 4th. Avenue's Jones Hotel Building shortly before it was demolished.
------------------------------------------------------------------------------------------------------
HUNTINGTON -- In the spring of 1985, you could get new eyeglasses, buy some exotic
martial arts weapons or enjoy a tasty sub sandwich in the shops on the first floor
of the old Jones Hotel building in the 900 block of 4th Avenue.
But the days for the shops were numbered. The building would soon be demolished.
The Jones Hotel was originally part of the historic Florentine Hotel. When it opened
in 1887, the Florentine, located on the southeast corner of 4th Avenue and 9th Street,
had only a handful of rooms. But the hotel immediately prospered, and a large
addition was soon constructed. The addition transformed the
small hotel into one of the grandest in West Virginia.
But time marches on and, as new, modern hotels were built, the Florentine
saw its business steadily decline. Ultimately, the old hotel's chief
appeal was the low price of its rooms.
The Florentine was closed and demolished in 1933. But a four-story section of the hotel
fronting on 4th Avenue was left standing and, renamed the Jones Hotel, continued in
business. For years, its guests were mostly like those who had
been attracted by the cheap rooms at the Florentine.
It's unclear when the Jones Hotel closed, but the building's upstairs floors had long been
vacant and used when a city inspection in April 1985 found that the building's roof,
which once just leaked, had bowed under the weight of that winter's snows.
The inspection also revealed the building's electrical system didn't meet
city code. The city pronounced the old hotel building unsafe
to occupy, and the decision was made to demolish it.
Facing eviction, the building's storefront tenants - Sturgeon's Opticians, Spears Martial
Arts School and Supply and D-Subs - scrambled to find new locations. (The
accompanying 1985 photo shows an awning lettered for Huntington
Main Street, but it in fact had closed earlier in the year.)
Soon the structure fell to the wrecking ball.
Today, the site, next door to the Keith-Albee Performing Arts Center, is a parking lot.
-----------------------------------------------------------
Note: This Article and picture appeared in the Herald-Dispatch Newspaper on August 28, 2017.
-----------------------------------------------------------
[ Back ]