The Margaret Theater
------------------------------------------------------------------------------------------------------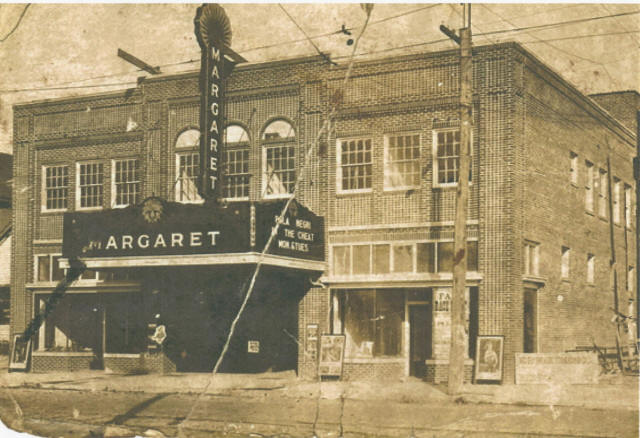 The Margaret Theater opened in the early 1920's.
------------------------------------------------------------------------------------------------------
HUNTINGTON -- The Huntington landscape once was dotted with neighborhood movie houses - the Park,
the Beverly, the Abbott, the Waco and others. All are long gone, unable to survive after the advent of television.
One of Huntington's old neighborhood movie houses was the all-but-forgotten Margaret Theater.
Located on the northwest corner of 8th Avenue and 20th Street, the Margaret was built
in the early 1920s by William E. Deegans and named for his wife,
Margaret (known to family and friends as Maggie).
A native of Bellefonte, Kentucky, who grew up in Coal Grove, Ohio, Deegans (1875-1944)
was a coal executive with an office in downtown Huntington in the Coal Exchange Building.
He had numerous other business interests, including ownership of a short-lived
race track on the outskirts of Barboursville. The track opened
in 1923, burned in 1926 and was not rebuilt.
The 500-seat Margaret was built in grand style, Fancy painted decorations graced the
walls and the elaborate proscenium arch above the stage. The theater screened
first-run films such as Pola Negri in "The Cheat" (a 1923 release that's
advertised on the marquee in the photo that accompanies this article)
and "The Iron Horse," a 1924 western by director John Ford.
In the early 1940s, the Margaret was renamed the Uptown, and soon the earlier
first-run films had been replaced by cowboy double features and movie
serials like "Flash Gordon." Admission was 25 cents. Tuesday
was "Talent Show Night" with locals - mostly
youngsters - singing and dancing.
The Uptown closed in the early 1950s. In recent years, the former theater housed
The Dragon Shop, which sold used home appliances. An Oct. 26, 2016,
fire damaged the building. It's still standing but is vacant.
-----------------------------------------------------------
Note: This Article and picture appeared in the Herald-Dispatch Newspaper on Jan. 23, 2017.
-----------------------------------------------------------
[ Back ]