The Missing Statue
------------------------------------------------------------------------------------------------------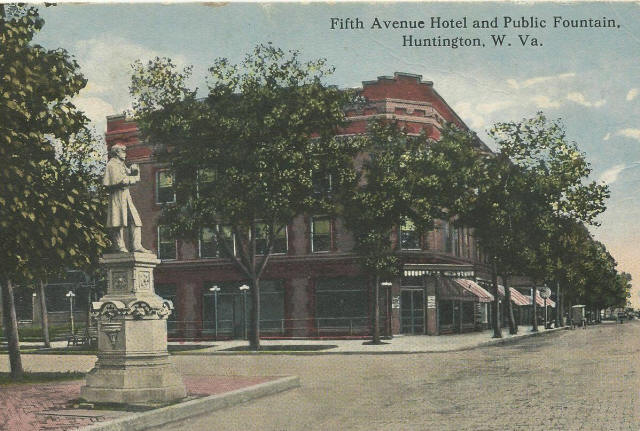 The fate of this Civil War statue remains a Mystery.
------------------------------------------------------------------------------------------------------
HUNTINGTON -- Huntington businessman Hansford Watts built his Fifth Avenue Hotel in 1910
on the southeast corner of 5th Avenue and 9th Street. The property originally had been the site oft
the first church building built in Huntington, the First Congregational Church. The old hotel
can be seen behind the trees in this vintage postcard, mailed in 1915.
In the hotel's earliest years, guests with rooms on the north side of the building could look
out their windows and see a statue of a Civil War soldier. As can be seen on this card,
the statue stood on the corner across 5th Avenue from the hotel.
The cast iron statue, which topped a public drinking fountain, is something of a mystery.
Nobody seems to know exactly when it was erected - or what happened to it.
It's thought to have been erected sometime in the 1890s. And, since it portrays a
Union solider, it likely was put in its place of honor by the Grand Army of the
Republic, the once-prominent organization of Civil War
soldiers who fought for the Union.
In 1915, plans were announced to build an imposing Confederate monument in Ritter Park
and also move the Union soldier statue to a nearby location in the park. Perhaps not
surprisingly, the plan riled some of the city's Union supporters. As an article in the
Huntington Advertiser reported, they felt the contrast between the elaborate
Confederate monument and the much smaller statute
"would be discreditable to the Union cause."
As the controversy swirled, the statue of the Union soldier disappeared.
Onlookers who saw it being loaded onto a wagon said they assumed
it was bound for Ritter Park. But the old soldier never arrived there.
A subsequent newspaper article speculated that the statue
"was escorted to the junk heap," but the reporter could
find no one willing to confirm that.
-----------------------------------------------------------
Note: This Article and picture appeared in the Herald-Dispatch Newspaper on Mar. 17, 2014.
-----------------------------------------------------------
[ Back ]