The Olympic Pool
------------------------------------------------------------------------------------------------------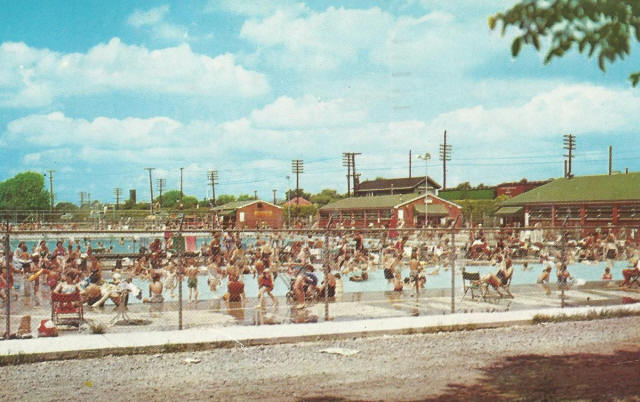 Business was booming at Huntington Olympic Pool when this postcard
was taken in the 1960's.
------------------------------------------------------------------------------------------------------
HUNTINGTON -- In 1945, a delegation of concerned citizens appeared before Huntington City Council
and urged construction of a network of municipal swimming pools. Their plea fell on deaf ears.
Five years later, in 1950, a group of women, the Women's Inter-Club Council, began a
determined on behalf of building city pools. The women argued that the construction
costs could be covered by a three-year tax levy, which could raise an estimated
$400,000. City Council put the proposed levy on the ballot
and the voters approved it by a margin of 3 to 1.
Plans were drafted for construction of a large Olympic-sized pool at W. 12th Street and Memorial Boulevard
and three smaller neighborhood pools -- at the A.D. Lewis Playground in the Fairfield neighborhood,
on Everett Street in Guyandotte and a site donated by the A.F. Thompson Manufacturing Co.,
in Westmoreland. Planning and constructing the pools proved to be a lengthy process
but they finally opened on Memorial Day, 1954, and were an immediate hit.
For decades, a day at one of Huntington's pools was a summer-time "must" for the city's youngsters.
Many teenagers virtually lived at the pools each summer. And even a few young-at-heart
oldsters could be spotted among the crowd of fun-seekers.
But in the mid-1990s attendance at Huntington's pools began a dramatic decline, as recreation tastes changed.
It seemed that youngsters glued to their computers no longer were interested in a day at the pool.
A consultant brought to town said municipal pools nationwide were experiencing
similar attendance declines. Public pools were "dinosaurs," he said.
The decline in paid admissions couldn't have come at a worse time, as maintenance and repair costs on
the aging pools were steadily increased. The result: a budget deficit that grew larger each summer.
Beset by lagging attendance and increased costs, the Olympic Pool was closed after the 2000 season.
A volunteer effort got it briefly reopen in 2004, but then it closed permanently and was
demolished in 2006. Today, its former site is a vacant lot. Of Huntington's
four city pools, only the A.D. Lewis pool survives.
-----------------------------------------------------------
Note: This Article and picture appeared in the Herald-Dispatch Newspaper on Aug. 4, 2014
-----------------------------------------------------------
[ Back ]