The Old Brickyard
------------------------------------------------------------------------------------------------------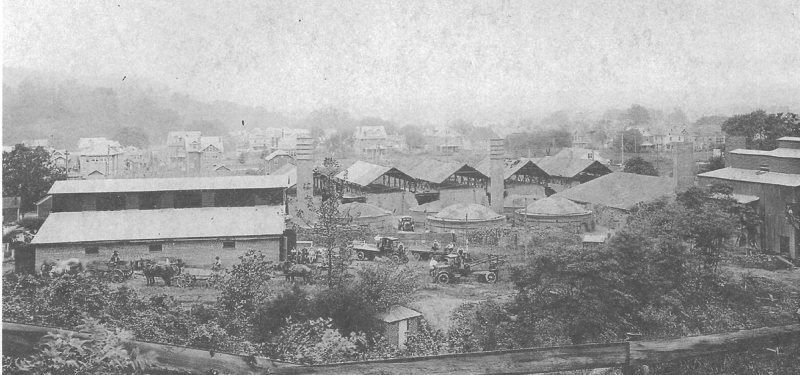 This photo taken shortly after the West Virginia Paving and Pressed Brick Co. opened in 1903,
offers a view of the brickyard looking east, with 18th. Street in the background.
------------------------------------------------------------------------------------------------------
HUNTINGTON -- The West Virginia Paving and Pressed Brick Co. opened in 1903
at a 16th Street site that's now part of Cabell Huntington Hospital's parking lot.
T.L. Evans had built a house near Clarksburg from brick he made on the family farm.
When he came to Huntington in 1900, he decided to turn his brick-making skill
into a business and purchased the nine-acre 16th Street property for $2,500.
Huntington was a growing community, and there was a steady demand
for bricks, not only to build homes but also to pave the city's streets.
Clay for the bricks was dug at the site with dynamite sometimes used to blast it loose.
When that happened, it shook the surrounding houses. The first kilns that were
built were fashioned from wood, but in 1918 they were replaced by six
kilns made from brick when brothers Dorsey and Tom Evans
took over for their deceased father.
The newly made bricks spent five and a half days in a kiln, which burned day and
night except during January and February when wet clay made bad brick.
The Chesapeake & Ohio ran a railroad spur into the brickyard, bringing in coal to fire
the kilns and hauling out boxcars of finished bricks bound for customers far and wide.
Local deliveries were initially loaded on wagons hauled by giant percherons.
Later the horses were put out to pasture and replaced by Model T trucks.
Workers no longer had to shovel coal after
a gas well was dug to fire the kilns.
Time marches on, and demand for brick steadily declined in the 1930s and '40s.
Tom Evans died in 1943. His brother Dorsey kept one or two kilns
going until he became ill in the early 1950s.
The old brickyard was then sold and the site used to build the Fairfield Plaza
shopping center with the Big Bear and A&P supermarkets and Heck's
discount store. Later, the shopping center was demolished
to enlarge the Cabell Huntington parking lot.
-----------------------------------------------------------
Note: This Article and picture appeared in the Herald-Dispatch Newspaper on Mar. 13, 2017.
-----------------------------------------------------------
[ Back ]