The Old City Market
------------------------------------------------------------------------------------------------------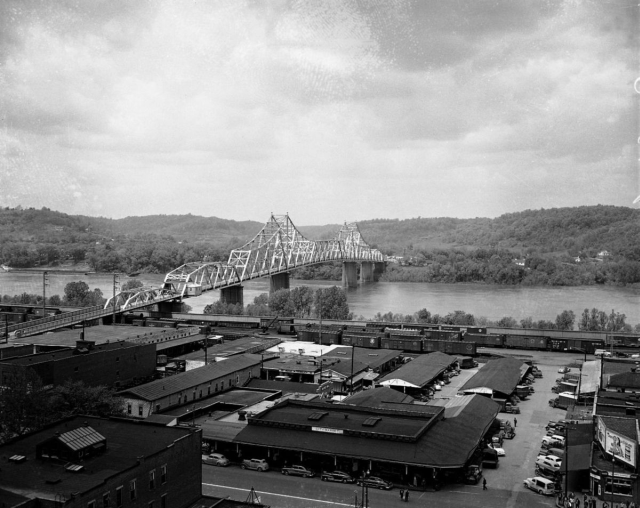 Opened in 1926, the old Sixth Street Bridge would be Huntington only Ohio River bridge until 1968.
The old two-lane Ohio River span continued to carry traffic until 1994, when it was replaced by the
four-lane Robert C. Byrd Bridge. The old City Market is shown (where the Big Sandy superstore
Arena is now located). Across the Ohio River is Chesapeake, Ohio. Date is unknown, but this
might be the fall of 1947, according to Jack Dennis.
------------------------------------------------------------------------------------------------------
HUNTINGTON — In 1912, the Huntington Chamber of Commerce published a booklet portraying life in
"a home-like, hospitable, progressive, busy, clean, pretty, young city, of about 40,000 people."
While picturing what the city had to offer prospective new businesses or other newcomers,
the booklet also cited improvements yet to come.
One such improvement, it promised, would be a market house.
The booklet noted that every morning found farm wagons loaded with produce lined up
along 8th Street. "In good weather this arrangement is not unpleasant, but in stormy times
it is troublesome to market men and buyers. The city has purchased a strip of ground
at the corner of 3rd Avenue and 7th Street, running through to 2nd Avenue, and it is
the purpose to build at this point a modern and well appointed market house."
The city did exactly that and for more than 50 years, the City Market
was the epicenter of the fresh food business in Huntington.
Before the coming of chain supermarkets, the Huntington area was home to more than
200 "mom and pop" grocery stores, and a visit to the City Market was the first order of
business each morning for either "mom" or "pop." Housewives looking for the freshest
food (and the cheapest prices) would also visit the market. Local farmers brought their
produce to the market to sell. Wholesalers trucked in shipments of fruit and vegetables
from hundreds of miles away. And, of course, the market was always
a great place to catch up on the latest gossip.
When the city drew up plans for its ambitious downtown urban renewal project in the
early 1970s, it was decided the City Market ­— along with the beer joints
and other ramshackle buildings around it — would have to go.
So the City Market soon fell to the wreckers. A new market built in the
200 block of 7th Avenue was supposed to take its place.
But nothing could replace the colorful hustle and bustle of the old City Market.
-----------------------------------------------------------
Note: This Article and picture appeared in the Herald-Dispatch Newspaper on July 6, 2014.
-----------------------------------------------------------
[ Back ]