The Oney House
------------------------------------------------------------------------------------------------------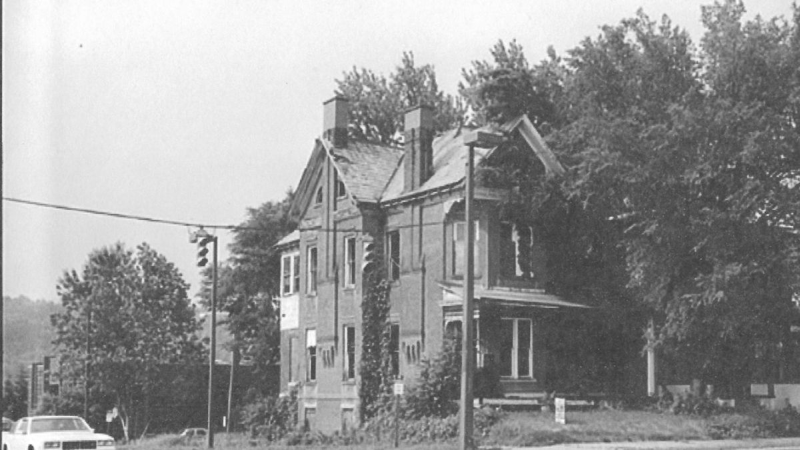 The Oney House at 1302 3rd. Ave. was demolished to make way for
construction of Cook Eye Care Center.
------------------------------------------------------------------------------------------------------
HUNTINGTON -- James K. Oney (1855-1928) was a Huntington banker for more than 50 years. Born in Hempstead, Texas,
Oney came to Huntington in 1875 and was employed at the Bank of Huntington, where his uncle, Robert T. Oney, was cashier.
Oney rose rapidly in the city's banking ranks. In the early 1890s, the Bank of Huntington was merged with the
Commercial Bank, and he became cashier of the new institution, which was named the Huntington National Bank.
In 1924, the Huntington National Bank merged with the First National Bank to form the First Huntington National Bank,
and Oney was named vice president, a position he continued to hold at his death.
Active in civic affairs, he was a member of town council in the 1890s and was secretary of the
Huntington school board for more than 30 years. A member of the elite Guyandotte Club,
he was one of the charter organizers of the Huntington Board of Trade
(the predecessor of today's Huntington Regional Chamber of Commerce).
It's believed Oney moved into his handsome red brick home at 1302 3rd Ave. in the early 1890s, a time when
3rd Avenue was lined with stately homes. Ely Ensign, founder of the Ensign Wheel & Car Works
(today's ACF Industries) lived just a few doors away at 1330 3rd Ave. After Oney's death, his widow,
the former Willie Gallaher, continued to live in the house until her own death in the mid 1930s.
After her death, the house had various occupants, but by the 1980s it sat vacant
and sadly neglected. At one point, it served as a Halloween haunted house.
In 1987, the Library of Congress photographed the exterior and interior of the house
for inclusion in its Historic American Buildings Survey. The house was demolished
in the early 1990s to make way for construction of the Cook Eye Care Center.
-----------------------------------------------------------
Note: This Article and picture appeared in the Herald-Dispatch Newspaper on Oct. 10, 2016
-----------------------------------------------------------
[ Back ]