The Packet 'Guyandotte'
------------------------------------------------------------------------------------------------------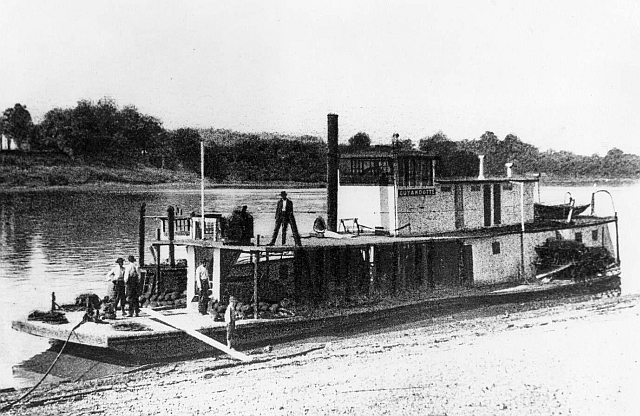 The packet boat "Guyandotte" was one of many small steamboats that traveled
the Big Sandy River in the 1890s and early 1900s. The handwritten
caption on the back of this photo of her reads: "Watermelons
being unloaded from the 'Guyandotte' at Ironton, Ohio."
Photo from "River of Sand Bars"
------------------------------------------------------------------------------------------------------
The Big Sandy River comes by its name honestly. Formed by the junction of its
Tug and Levisa forks at Louisa, Kentucky, the Big Sandy flows northward
and empties into the Ohio River at Catlettsburg, Kentucky.
It's filled with shifting sandbars that are here
today and someplace else tomorrow.
Sometime in the 1830s, the first wood-burning steamboat belching fire
and smoke made its slow way along the Big Sandy, ushering in an
era that would hold sway until the 1920s. The steamboats
brought a variety of merchandise to the isolated river
valley, moving passengers and mail back and
forth and carrying out produce to be sold.
The wooden packet boat "Guyandotte" was one of the many small steamboats
that regularly traveled the Big Sandy. According to Jack L. and Kay
Dickinson, the husband and wife historians who wrote "River of
Sand Bars," she was built at Guyandotte in 1896 by brothers
James and George Godby, who made several trips with
her up the Guyandotte River to Logan, West Virginia.
In 1902, the Godbys sold the boat to Dr. James F. York and Albert
G. Holt, both of Kenova, West Virginia. In 1904, she was sold
again, this time to William O. Vaughan of Catlettsburg, and
saw service on the Big Sandy. In periods of low water
on the Sandy, she made runs on the Ohio. The
Huntington Advertiser reported she
burned on Aug. 13, 1908.
As the Dickinsons write, the coming of the railroads to the region —
following the course of the Big Sandy — spelled the end of the
region's once-thriving river trade. The crude locks and
dams that had been built to help the steamboats make
their way along the river were abandoned and
soon crumbled away. Today, the Big Sandy
can be commercially navigated for only
a few miles upstream from where
it flows into the Ohio.
-----------------------------------------------------------
Note: This Article and picture appeared in the Herald-Dispatch Newspaper on Oct. 03, 2023.
-----------------------------------------------------------
[ Back ]