The Patterson House
------------------------------------------------------------------------------------------------------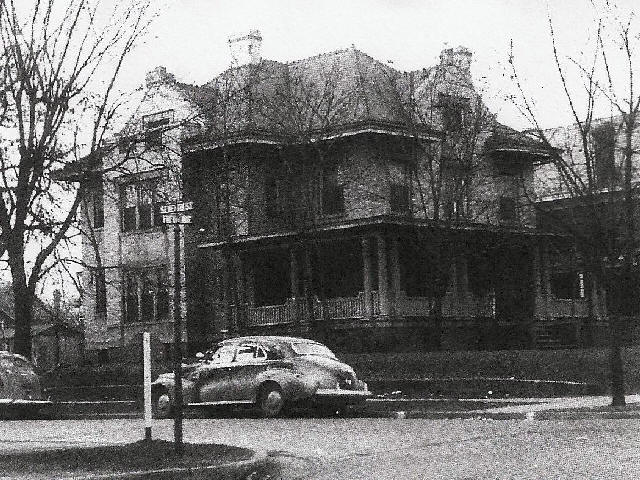 The Patterson house, which once stood at 5th Avenue and 7th Street,
was designed by talented Huntington architect Edwin N. Alger.
------------------------------------------------------------------------------------------------------
HUNTINGTON — During the 1890s and on into the new century, Edwin N. Alger
was one of the city's most prolific architects. He partnered with fellow architect
James B. Stewart in designing the handsome Carnegie Library. After establishing
his own firm, he designed the old Huntington High School on 8th Street,
the First Congregational Church and a number of impressive homes.
Many of the homes Alger designed were in the popular style now
called American Foursquare. Large, solid brick structures, they
generally had dormered hipped roofs and expansive porches.
A good example is the S.W. Patterson house, which once stood
on the southwest corner of 5th Avenue and 7th Street, where
the WSAZ-TV studios and offices are now located.
Built in 1905, the three-story brick home had an ornate veranda of
classical columns and balustrades that supported an extended
roof with brackets. The main roof was terra cotta tile. A
Flemish-style brick dormer divided the front central
gable. All of the windows had stone lintels. The
third floor gable that faced 7th
Street had a balcony.
S.W. Patterson was a major stockholder in the Consolidated
Light & Power Co., which operated Huntington's first
streetcars. In 1946, the Adams family purchased
the impressive 5th Avenue home.
In 1953, Mrs. Adams sold the residence to W.L Rupe,
who converted it to a nursing home. It was
demolished in November 1961.
Note: This Article and picture appeared in the Herald-Dispatch Newspaper on Dec. 29, 2020.
-----------------------------------------------------------
[ Back ]