The Renaiaaace
------------------------------------------------------------------------------------------------------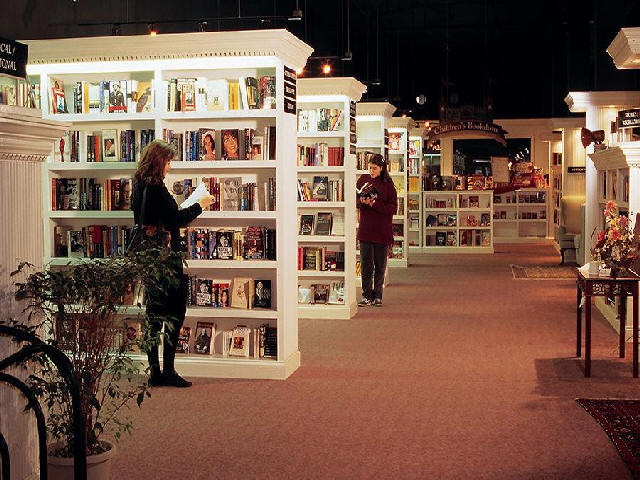 The Renaissance proved to be not only a bookstore but
a community and cultural gathering place.
------------------------------------------------------------------------------------------------------
HUNTINGTON — The two families who opened the Renaissance Book Company &
Coffee House came up with the concept for the store independently.
Neurosurgeon Dr. Panos Ignatiadis and his wife, Patricia, long had been talking about the
need for a bookstore in downtown Huntington. So had Peter Levy and his wife, Kelly.
Initially the two couples didn't know each other, but before long they got together,
talked things over and decided to make their individual dreams a mutual reality.
The new partners considered several possible locations for their new store but
decided to locate in the former home of the Star Furniture Co. at 831 4th Ave.
After extensive building renovations that included a new roof, new heating
and air conditioning, wiring and plumbing, the store opened for
business June 18, 1994. The owners credited construction
manager Frank Wilkinson with pulling together
the necessary renovation projects.
Assisted by Connie Post Designs of Huntington, the owners patterned their
new store after an 18th Century British Library, with handsome shelving
and room for comfortable sofas and armchairs. Two of the building's
original features added to the store's charm — a unique double
staircase leading to the café on the lower level and the café's
striking terrazzo flooring, valued at $100,000. Artist Mike
Steele created the company's logo and designed a
striking storefront sign constructed by Paris Signs.
The Renaissance proved to be not only a bookstore but a community
and cultural gathering place, offering book signings, poetry
readings, children's story hours, artist exhibits,
musical performances and other events.
When a national chain, Borders Books, Music and Café, opened at the
Huntington Mall in 1999, the Renaissance responded to the new
competition by emphasizing its personal service, expanding
its children's offerings and opening a used bookstore in
the basement. But ultimately theRenaissance
closed its doors.
-----------------------------------------------------------
Note: This Article and picture appeared in the Herald-Dispatch Newspaper on Dec. 22, 2020.
-----------------------------------------------------------
[ Back ]