'Sportsman'
------------------------------------------------------------------------------------------------------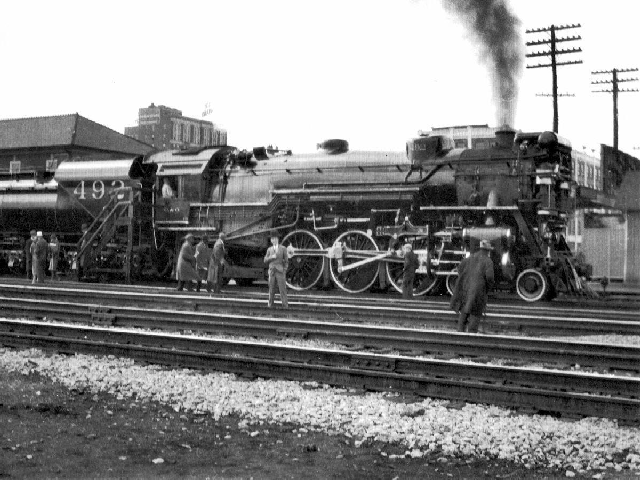 More than 10,000 people were able to walk through "The Sportsman" a new C&O
train, when it visited Huntington on May 21, 1930, as part of a publicity tour.
(The tall building in the photo's upper left hand corner is the Hotel Prichard.)
------------------------------------------------------------------------------------------------------
HUNTINGTON — This year marks the 90th anniversary of the Chesapeake & Ohio Railway's
introduction of "The Sportsman," a deluxe train that ran between Newport News,
Virginia, and Detroit, Michigan, with a connection to Washington, D.C.
"The Sportsman" was created to link the resorts of the Virginia seashore,
the mountain resorts of Virginia and West Virginia and the
playgrounds of the Great Lakes in Michigan.
"A flurry of advertisements announced its coming," said Tom Dixon,
founding president of the Chesapeake & Ohio Historical Society
(C&OHS). "The ads almost all featured people playing
golf, tennis, boating, riding and swimming."
The train boasted a number of innovations, including a new coach design, the "Imperial
Salon Car," which had bucket seats that could swivel 360 degrees, enabling small
groups of passengers to face each other to converse or play cards. The seats
sold at the same prices as standard coach seats. The seats in the train's
dining car were designed after those found in the restaurant at the
famed Ritz-Carlton Hotel in New York City. The observation/
lounge car had a radio installed — a first on the C&O.
The new train ran for the first time on March 30, 1930. In the weeks before
the train's debut, the C&O sent it on a publicity tour of the communities
it would serve, giving the public an opportunity to board and see
its plush interior. The tour proved a big success, attracting
a total of more than 100,000 visitors.
When the touring train steamed into Huntington on March 21, 1930, it
was welcomed by Mayor James Boyce Taylor, Chamber of
Commerce President E.B. Jansman and a 10-piece
band. The Herald-Dispatch reported that more
than 10,000 people toured the train before
it left Huntington and steamed
on to Charleston.
"The Sportsman's" name disappeared from the C&O's timetable in 1968.
-----------------------------------------------------------
Note: This Article and picture appeared in the Herald-Dispatch Newspaper on June 23, 2020.
-----------------------------------------------------------
[ Back ]