The State Theater
------------------------------------------------------------------------------------------------------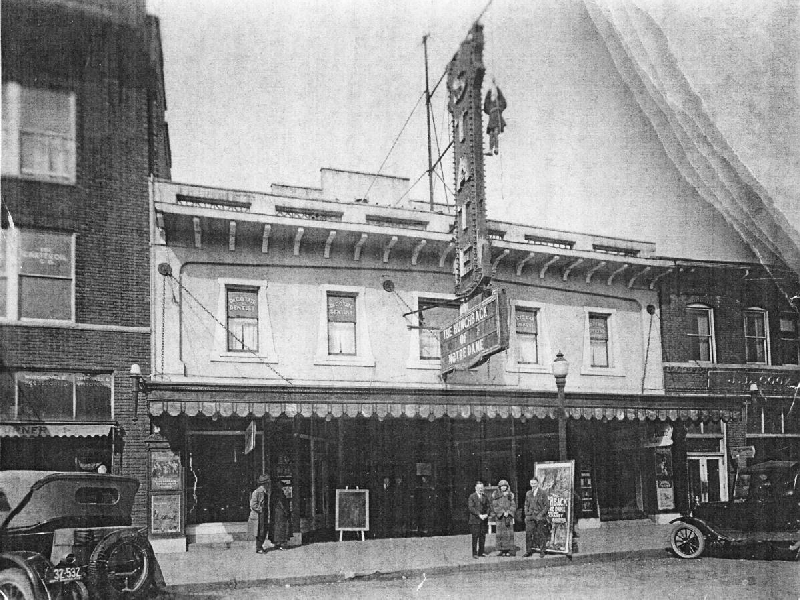 In 1939, the State Theater was showing "The Hunchback of Notre Dame," the classic film
starring Charleston Laughton and Maureen O'Hara. Note the dummy representing
Quasimodo that's hanging from the theater's vertical sign. In later years,
the State would become best known for ita cowboy double-features.
------------------------------------------------------------------------------------------------------
HUNTINGTON — In its early years, the old State Theater showed first-run films, such as
the 1939 classic "The Hunchback of Notre Dame," which starred Charles Laughton
as Quasimodo, the cathedral's hunchback bell ringer, and Maureen O'Hara
as Esmeralda, the beautiful gypsy girl he loved.
The late Al Cross was the long-time manager of the Hyman family's downtown
Huntington theaters. In a 1974 interview, Cross recalled that in the Depression
years when times were tough, local farmers sometimes bartered
produce for a theater ticket. Once, he said, he accepted
a live chicken in a trade for a ticket to the State.
By the 1950s, first-run moves were few and far between at the State. Instead the theater
had been reduced to screening a steady stream of cowboy double features,
and that's the way many people today remember it. Admission for
youngsters was 15 cents, and popcorn was 10 cents a box
(plus a penny's tax). Ultimately, live wrestling
matches were staged at the old theater.
In 1963, A. Grant Becket, president of the Huntington Trust & Savings bank,
announced that his firm would erect a modern bank building on the
northwest corner of 4th Avenue and 11th Street. To do so, it
purchased the former State Theater and the adjacent Loop
Building (once home of the Mayflower Lunch).
Soon the wreckers made short work
of the two buildings.
In 1972, the bank purchased and demolished the property immediately west of its
building to make way for an addition. In 1984, Huntington Trust merged with
the First Huntington National Bank and the 4th Avenue bank building
was placed up for sale. It sat vacant for more than three years
before Marshall University acquired it. Since 1991,
the former bank building has been home to the
Robert C. Byrd Institute (RCBI).
-----------------------------------------------------------
Note: This Article and picture appeared in the Herald-Dispatch Newspaper on Dec. 31, 2018.
-----------------------------------------------------------
[ Back ]