The Steamboat Omar
------------------------------------------------------------------------------------------------------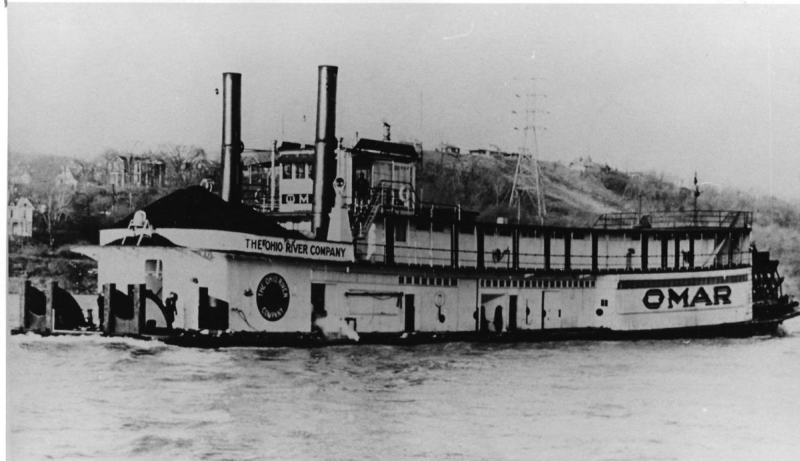 From the mid - 1930s through the 1950s, the steamer Omar hauled millions
of tons of coal from Huntington to Cincinnati and elsewhere.
------------------------------------------------------------------------------------------------------
HUNTINGTON -- From the mid-1930s through the 1950s, the sternwheel steamboat Omar transported millions of tons of coal
from Huntington to Cincinnati and elsewhere. In 1939, the Omar is said to have set a record for the Huntington-Cincinnati
run by pushing 28 coal-laden barges. That's almost three acres of coal totaling 22,792 tons.
The barges in the record-setting tow were loaded at the company's old Huntington dock on the river at 25th Street.
The Omar was built by the Dravo Corp. of Pittsburgh in 1935 and went into service the following year.
She was operated by the Ohio River Co., then a subsidiary of the West Virginia Coal & Coke Co.,
and named for Omar, the West Virginia town where the company's mines were located. Her homeport was Cincinnati.
Just 200 feet long overall, the Omar had a 1,000 horsepower engine built by the Marietta Manufacturing Co. in Point Pleasant.
The Ohio River Co. retired the Omar in 1961 and donated the boat to the state of West Virginia.
Renamed the Rhododendron, she was transformed into a showboat, with a 264-seat theater.
The remodeling work was done by Marietta Manufacturing. The boiler room was left intact so visitors
could see it, but with the engine no longer operative, the boat had to be towed from town to town.
In the summer of 1963, the Rhododendron toured the Ohio, Kanawha and Monongahela rivers as part of
West Virginia's 100th birthday celebration. Audiences in the state's riverfront towns were treated to
performances of a vintage-1863 melodrama, East Lynn, along with local entertainment.
The original thought was to retain the Rhododendron after the Centennial year ended and use it as a
floating museum of river history. But the plan fell through, and so the state sold the boat at public auction.
The winning bid was submitted by the town of Clinton, Iowa, where it became a museum.
Thanks to river historian Jerry Sutphin of Huntington for his assistance with this article.
-----------------------------------------------------------
Note: This Article and picture appeared in the Herald-Dispatch Newspaper on Jan. 4 , 2016
-----------------------------------------------------------
[ Back ]