The Sylvania Plant
------------------------------------------------------------------------------------------------------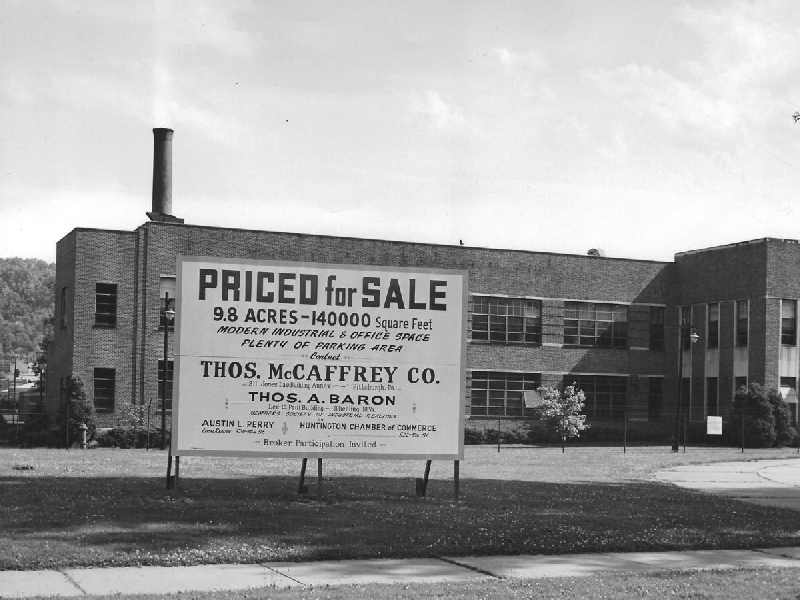 In 1960, a large sign advertised that the former Sylvania plant was for sale.
------------------------------------------------------------------------------------------------------
HUNTINGTON -- With the outbreak of World War II, American industry rolled up its sleeves and went to work.
Virtually overnight, plants switched from making automobiles and other civilian goods to turning out guns and tanks and airplanes.
New plants were built including a super-secret facility built by the U.S. Navy on a 9.8-acre site
at Madison Avenue and 7th St. West. The Navy spent $1.5 million to build the 140,000-
square-foot plant and another $1.5 million to equip it for the production of miniature
electronic tubes which were used in the proximity fuses of artillery and antiaircraft shells.
The Navy leased the plant to Sylvania Electric Products Inc., which operated it. At
its peak, the plant employed 3,700 workers, mostly women, on three shifts. At
war's end, production was sharply curtailed and most of the workforce laid off.
By the time the plant closed in 1957, only 350 workers were still on the job.
Efforts by city officials and the Huntington Chamber of Commerce to convince Sylvania to convert the
plant to civilian production or to lure another company to take over the closed plant were unsuccessful.
The federal government put the building up for sale, and in 1961 the Chesapeake & Ohio Railway Co.
bought it to house a new data processing center. The railroad would utilize the building until the mid 1980s.
Today, the building is occupied by the West Virginia Department of Transportation.
The Division of Motor Vehicles has its local office in the front section of the
building on Madison Avenue, and the Division of Highways
utilizes the rest of the sprawling structure.
-----------------------------------------------------------
Note: This Article and picture appeared in the Herald-Dispatch Newspaper on Jan. 19 , 2015
-----------------------------------------------------------
[ Back ]