The Up Towner Inn
------------------------------------------------------------------------------------------------------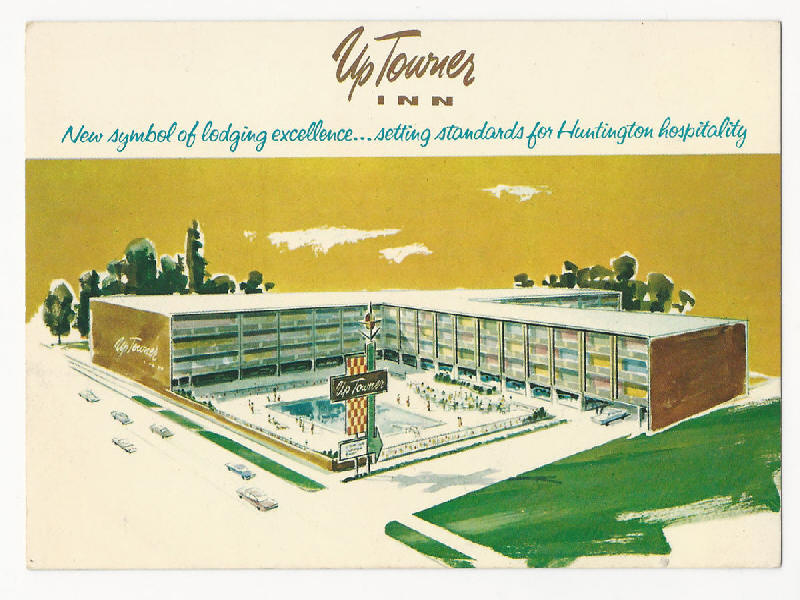 The Up Towner Inn opened just in time to host the the 1962 Miss USA pageant.
------------------------------------------------------------------------------------------------------
HUNTINGTON -- In 1962, downtown Huntington saw something it hadn't seen in years -
the opening of a brand-new place where overnight guests could book a room.
The UpTowner Inn opened in the 1400 block of 4th Avenue just in time for that year's
Miss USA beauty pageant. The motel was headquarters for the pageant and housed
the 44 contestants from across the nation, as well as the
various dignitaries associated with the contest.
Built at a cost of $1.3 million, the new motel had 144 guest rooms, a large swimming pool and club facilities.
It was built by a corporation headed by Robert P. Holley Jr. of the Stonewall Investment Securities Co.
As built, the UpTowner guest rooms each opened onto an open-air walkway, as typically found in suburban
motels. Later, the motel's board of directors, headed by Violet Midkiff as president, undertook a $2.5
million remodeling project that included turning the open walkways into enclosed corridors. The
work drastically altered the building's appearance, making it look more like a hotel and less like a motel.
The UpTowner operated for a number of years without a franchise. Later, it became a Holiday Inn.
Over the years, the motel had its financial ups and downs. Holiday Inn withdrew
its franchise in 1997, and in 2002 owner Carl Midkiff closed the motel.
In announcing the closing, Midkiff told The Herald-Dispatch the UpTowner's fate was sealed when
his company opened its new Holiday Inn and Suites at the corner of 3rd Avenue and 8th Street.
Huntington, he said, didn't have enough business and leisure travel
to support both his company's new hotel and the UpTowner.
Today, the former motel, renamed The Flats on 4th, operates as an
apartment building, catering to Marshall University students.
-----------------------------------------------------------
Note: This Article and picture appeared in the Herald-Dispatch Newspaper on Nov. 16 , 2015
-----------------------------------------------------------
[ Back ]