The Waco Theater
------------------------------------------------------------------------------------------------------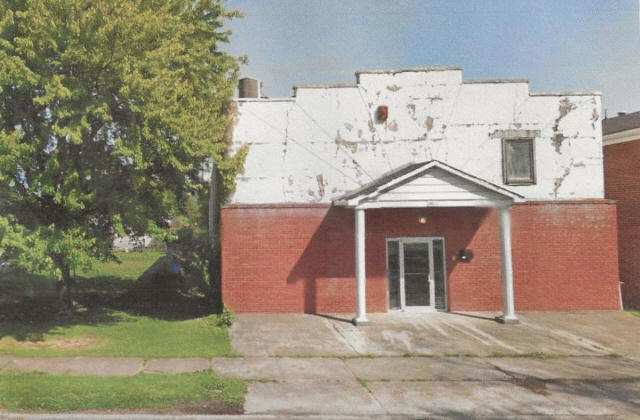 ------------------------------------------------------------------------------------------------------
HUNTINGTON — In the late 1940s and 1950s, Huntington had more than a half dozen
neighborhood movie houses, including the Waco Theater, which Ray Tinsley
briefly operated at 3028 Piedmont Road in Westmoreland.
Typically, neighborhood theaters showed what were known as "second-run"
features, films that had been released two or three years earlier and now
were being shown in theaters again, generally at bargain prices.
Thus, the first movie that Tinsley showed at his new theater when he opened
it on Aug. 24, 1947, was "Home in Indiana," a romantic comedy that
had been released by 20th Century Fox in 1944. The film starred
Walter Brennan, a reliable screen actor who got his start in the
1920s and went on performing into the 1970s. The film
also marked the debut of Jeanne Crain,
who went on to film stardom.
In an advertisement published in the Sunday Herald-Advertiser
on the day the Waco opened, Tinsley boasted that his
new theater had the "latest RCA sound equipment"
and the "world's finest projection equipment."
In their history of the Westmoreland neighborhood, "The Gate to
Westmoreland," Dr. Willard J. Daniels Jr. and Paul N. Fulks
wrote: "The Waco Theater had a relatively short life …
but it did provide a neat place for a Saturday matinee
or Friday night date spot for older teenagers."
Tinsley also built and operated Ray's Dairy Bar, which,
as Daniels and Fulks noted, was "a popular
place for the kids of Westmoreland
to gather after games, movies
or just hang out."
In the early 1950s, the Waco was pressed into
service as an improvised stage for Vinson
High School musical productions.
The old Waco Theater building is still standing.
-----------------------------------------------------------
Note: This Article and picture appeared in the Herald-Dispatch Newspaper on Oct. 20, 2021.
-----------------------------------------------------------
[ Back ]