The George Washington
------------------------------------------------------------------------------------------------------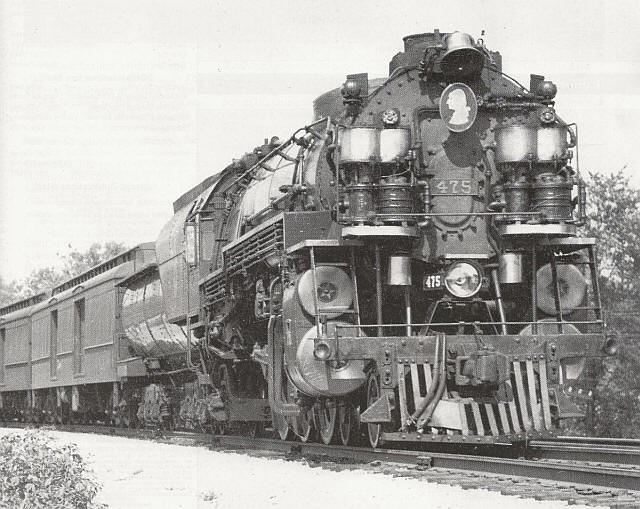 A 1945 photo offers a view of the C&O's George Washington just after leaving Cincinnati,
heading for Huntington. Note the cameo portrait of Washington on the front of the engine.

Courtesy of the C&O Historical Society
------------------------------------------------------------------------------------------------------
HUNTINGTON — April 24 will mark the 90th anniversary
of the first run of The George Washington, the Chesapeake &;
Ohio Railway's premier passenger train.
Linking Washington, D.C., and Cincinnati, the George Washington traveled
a route that brought it across West Virginia and regularly saw it pull in
and out of the C&O's Huntington passenger depot.
When the C&O debuted the George Washington the nation was in the grip of the
Great Depression, not exactly an ideal time to debut a new train. But, while
other railroads were flirting with bankruptcy, the C&O was flush with
revenue from its then-booming coal business and was willing
to spend some of that cash on a new passenger train.
Even so, it ordered no new cars for the George, as it was sometimes
called. Instead, older cars were given a handsome renovation.
In a major innovation, the entire train was air-conditioned, a move enthusiastically
embraced by the traveling public. Realizing it was on to a good thing, the
C&O quickly installed air conditioning on its other name trains.
Everything about the train was designed to fit its name, inside and out.
The cars all had names of people, places and events associated with
Washington's life. Pullman even allowed the George Washington
name to replace its usual bold name on the train's sleeping cars.
In the days leading up to the train's debut, some of its cars were
put on display in cities along its route. In Huntington on
April 23, 1932, visitors to the C&O depot could get
a close-up look at one of the train's sleepers.
The C&O operated the George Washington from 1932 until 1971,
when Amtrak took over the nation's rail passenger service.
The train's famous name survived a bit longer until
Amtrak erased it, and it vanished
into railroad history.
-----------------------------------------------------------
Note: This Article and picture appeared in the Herald-Dispatch Newspaper on Apr. 12, 2022.
-----------------------------------------------------------
[ Back ]