Torlone's Community Bakery
------------------------------------------------------------------------------------------------------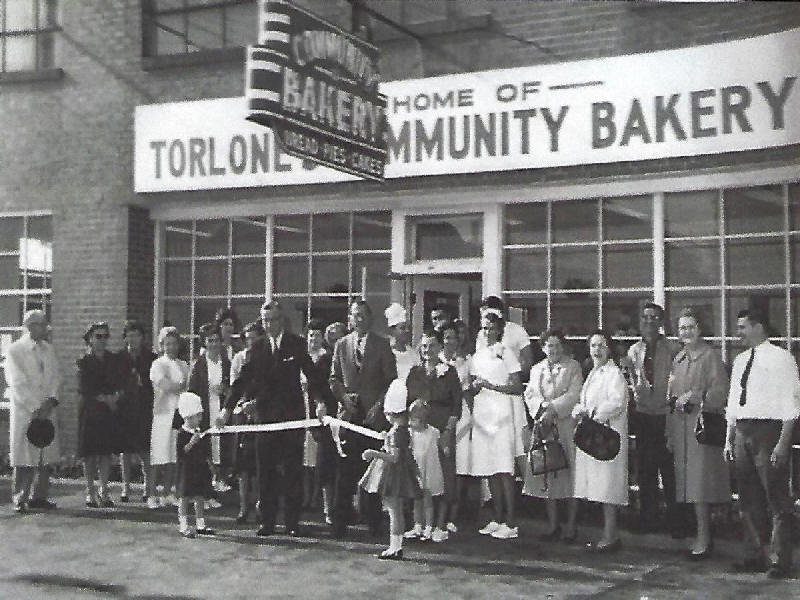 For nearly 50 years, Torlone's Community Bakery served the finest in baked goods to
thousands of Huntington customers. When Torlone's closed, its busy 8th. Street
building became home to Francois' Pastry Shop.
------------------------------------------------------------------------------------------------------
HUNTINGTON — On March 4, 1995, the Torlone brothers Louie, Dominic and Alfred
closed the doors of Torlone's Community Bakery for the last time, after almost
50 years of serving the finest in baked goods, from tasty doughnuts and
sweet rolls to elaborate wedding cakes, to their thousands of customers.
The family bakery, located at 817 8th St., was opened in 1946 by Peter
and Maria Torlone and then continued in operation by their sons.
Interviewed as the bakery prepared to close and the brothers embarked on retirement,
Louie Torlone said he hoped the community would remember that the bakery treated
everybody with care and concern. Each week the family donated baked goods to
the Huntington City Mission, local churches and the Veterans Home at
Barboursville. And after the tragic Marshall University plane
crash, the Torlones emptied their shop's shelves to help
the Red Cross feed the recovery workers.
Dominic Torlone said he would miss the bakery's customers and neighbors the
most. Dominic, who worked the day shift, was always ready to provide
a hot cup of coffee, some friendly advice or a hug.
Alfred Torlone, the youngest brother, said he believed he and his brothers must have had
flour in their blood. He noted their father began baking bread in West Virginia shortly
after he immigrated from Italy in 1912. The family's bakery, Alfred said, was "a
perfect example of a mom and pop store like we used to have in the old days."
When Torlone's closed, its busy 8th Street building became home to Francois'
Pastry Shop, known for its fancy wedding cakes and authentic French
pastries. Operated by Francois Lethier, it closed in 2015.
-----------------------------------------------------------
Note: This Article and picture appeared in the Herald-Dispatch Newspaper on Nov. 5, 2018.
-----------------------------------------------------------
[ Back ]