Tradewell Supermarkets
------------------------------------------------------------------------------------------------------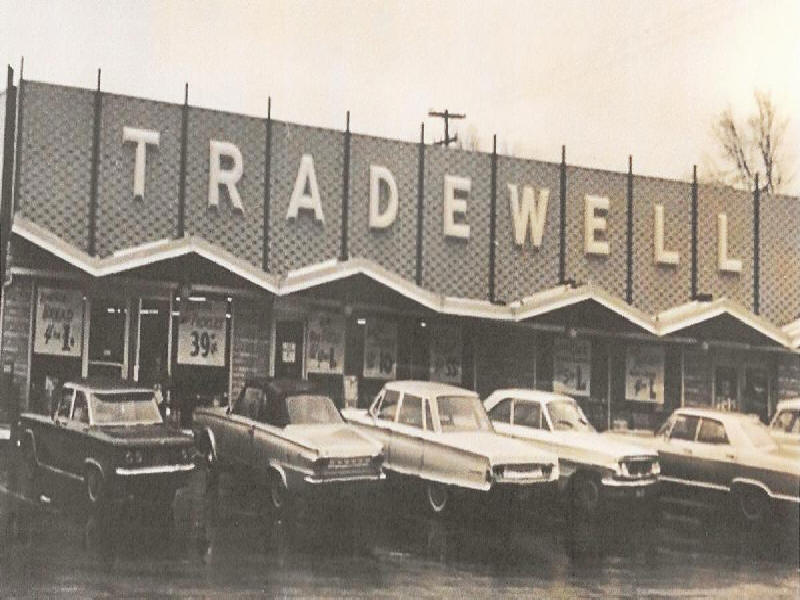 The Tradewell on Camden Road was one of a number of local supermarkets
owned and operated by the late Glenn Queen (1924-2007).
------------------------------------------------------------------------------------------------------
HUNTINGTON — Today, Glenn Queen's son Mike is a Baptist minister in Wilmington,
North Carolina. As a young man, he worked closely with his father
at the Tradewell Supermarkets his father owned and operated.
Here's how he recalls the history of those stores:
"In 1945, Dad bought the ABC Food Market in Wayne, where our family grew up.
In 1958 he and Roy Gibson, who had a Tradewell on 8th Street, partnered
in opening a second Tradewell, located on Camden Road
just over the Cabell/Wayne county line.
"After three months they were losing money fast. Mr. Gibson wanted to
close the store and cut their losses. Dad had put everything he had
into that store and couldn't walk away. So Mr. Gibson kept his
8th Street store and dad became sole owner of the Camden
Road store. They managed to remain good friends.
"Dad opened the store at 6 a.m. and closed at 11 p.m. seven
days a week. He also had to drive to and from Wayne
each day. I don't know how he did that. By 1961 he
was doing well enough to double the size of the
store. It was then that he sold the store in
Wayne and moved our family
to Huntington.
"When I graduated from college, Dad still just had the one Tradewell
store. David Hatton had one in Kenova, Bill Wagoner had one
in Barboursville, and Jack Booten had one in Huntington.
"Dad and I decided to grow the company. We opened a store at 5th St. West
next to Colonial Lanes, one at Eastern Heights on Route 60 East and one
on 16th Street (Hal Greer Boulevard) next to the hospital. We also
had four stores in Portsmouth, Ohio. I left for seminary in 1978,
and Dad never opened another store. He ran them the next ten
years before selling the company. Most of the
stores closed shortly after that."
-----------------------------------------------------------
Note: This Article and picture appeared in the Herald-Dispatch Newspaper on Dec. 3, 2019.
-----------------------------------------------------------
[ Back ]