Twentieth Street Bank
------------------------------------------------------------------------------------------------------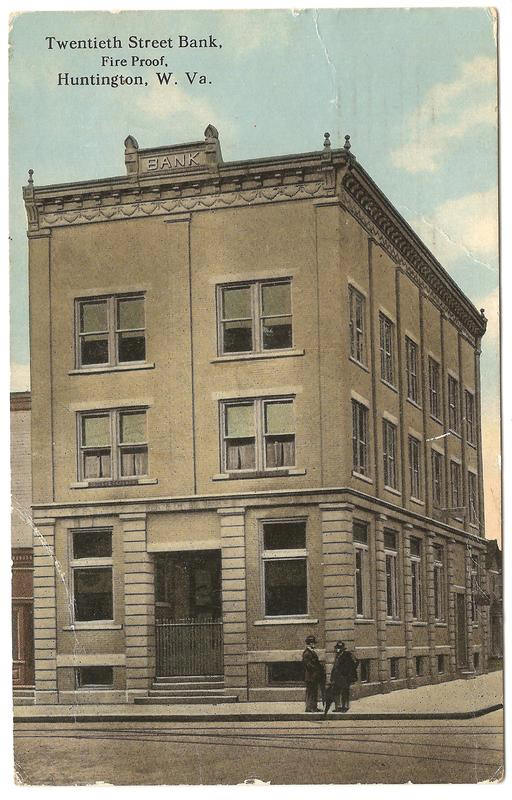 ------------------------------------------------------------------------------------------------------
HUNTINGTON -- The Twentieth Street Bank was long the centerpiece of the East Huntington business community.
Its location on the corner of 3rd Avenue and 20th Street was an ideal spot to serve nearby stores
and factories, along with their employees.
The bank opened with five employees in 1905. At the end of its first two weeks of business,
it had earned $194.46. Shortly thereafter, the bank's directors voted a dividend
of 50 cents a share to be paid the stockholders at the end of the year.
At some point early in the bank's story, a handsome clock was hung on the corner of the
bank's three-story stone building. The clock would become a neighborhood icon.
When the Great Depression hit in 1929, the Twentieth Street Bank was one of the few Huntington
financial institutions to keep its doors open. In 1935, B.C. McGinnis Sr. became the bank's
president. His son and then his grandson would follow in his footsteps. The bank had
assets of less than $1 million when the senior McGinnis became president.
By 1941, that figure had tripled.
When B.C. McGinnis Jr. took over for this father in 1958, the bank's assets had grown
to more than $50 million and its staff to 50.
In 1959, the bank built a modern addition to its original building. In 1975, a
fire severely damaged the bank and the directors decided to build an
entirely new structure - a $3.5 million Williamsburg-style design.
In 1996, Horizon Bancorp of Beckley acquired the bank. A little more than two years later,
Horizon itself was purchased by City National Bank. Horizon operated the
Twentieth Street Bank under its original name, but City National
retired the bank's historic name in favor of its own.

-----------------------------------------------------------
Note: This Article and picture appeared in the Herald-Dispatch Newspaper on Feb. 03, 2014
-----------------------------------------------------------
[ Back ]