Vanity Fair Building
------------------------------------------------------------------------------------------------------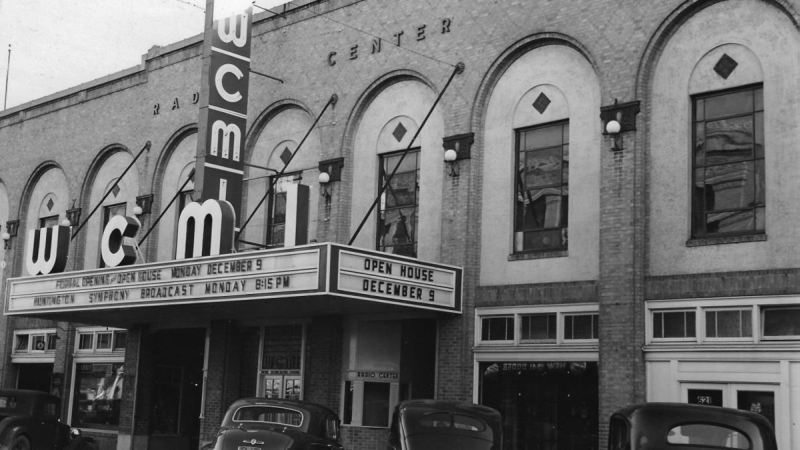 In 1940, radio station WCMI moved into the historic Vanity Fair Building and
gave it a new name -- Radio Center.
------------------------------------------------------------------------------------------------------
HUNTINGTON -- For decades, Huntington's venerable Vanity Fair building -
built in 1915 and rebuilt in 1924 after a fire - was the only arena in town.
In the 1930s, it hosted dance marathons. In the 1940s, the big bands played there. During World War II,
young men took their draft physicals there. After the war, it hosted a wide variety of events,
including music concerts, professional wrestling matches and skating nights.
Until Veterans Memorial Field House opened in 1950, it was home court for Marshall College basketball.
In the 1950s, it was the first studio for Channel 13 television. Today, the old building in the 600 block
of 4th Avenue houses 53 efficiency apartments for low-income residents.
In December of 1940, radio station WCMI moved into historic Vanity Fair and gave
it a new name - Radio Center. The station erected a 40-foot marquee across the front
of the building and topped it with a huge neon sign displaying the WCMI call letters.
In 1955, WHTN-TV, Channel 13, went on the air, with its studio located in Radio Center. The station,
which later changed its call letters to WOWK, remained there until 1984, when it moved to a new building
at 555 5th Ave. (In 2012, WOWK closed its Huntington studio, consolidating it with its Charleston facility.)
Sharing space in the old building with the TV station was a popular eatery,
Martin's Restaurant, operated by Johnny Martin.
When WOWK moved out, the building sat vacant for years before the Cabell-Huntington Coalition for the Homeless bought
it and converted it into low-income apartments. Coalition Founder Betty Barrett has said she feels certain that if the old
building hadn't been turned into low-income housing it would have been demolished and the site made into a parking lot
-----------------------------------------------------------
Note: This Article and picture appeared in the Herald-Dispatch Newspaper on May 2, 2016
-----------------------------------------------------------
[ Back ]