WSAZ Radio
------------------------------------------------------------------------------------------------------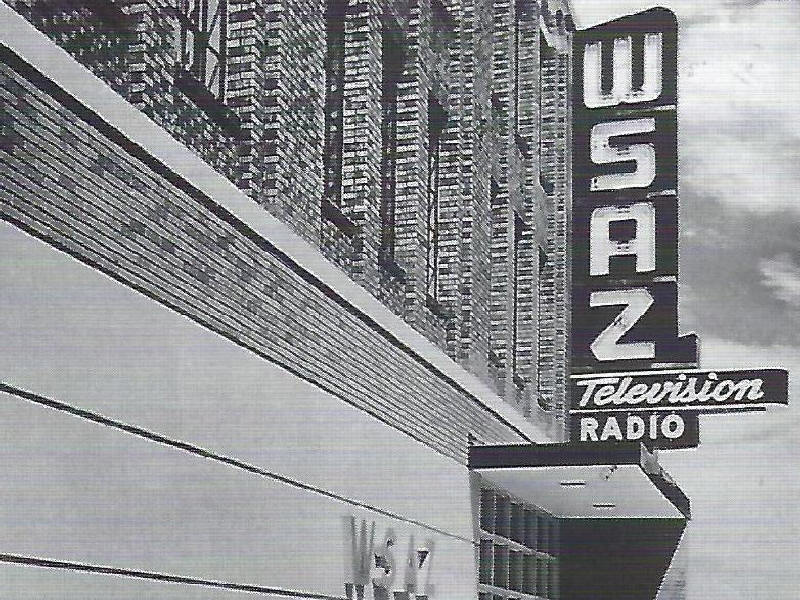 In 1953, the Huntington Publishing Co. opened a modern combined
radio and television studio at 201 9th. St.
------------------------------------------------------------------------------------------------------
Editor's Note: This is the 262nd in a series of articles recalling vanished Huntington scenes.
HUNTINGTON -- In 1923, radio engineer Glenn Chase began a semi-regular schedule of radio
broadcasts in Pomeroy, Ohio. Chase said keeping his fledgling station on the air was such a
headache that he chose the call letters WSAZ to stand for "Worst Station from A to Z."
More likely the call letters were simply a matter of chance
when the station's license was issued.
Two years later, Chase moved to Huntington and sold a controlling interest
in the station to Huntington businessman W.C. McKellar, who wanted
to use it to promote the sale of radios at his 4th Avenue store.
Chase, who stayed on as the station's engineer, broadcast
from the store's first floor show window.
In 1927, McKellar sold a partial interest in WSAZ to the Huntington
Publishing Company, the publisher of Huntington's newspapers.
McKellar stayed on as station manager and
Chase continued as station engineer.
Not surprisingly, veteran newspaper writers like society editor Catherine Bliss Enslow
and sportswriter Fred Burns were soon regularly broadcasting on the station. The
station's studio was moved, first to the Hotel Prichard, then to the third floor
of the Keith-Albee Theater. WSAZ soon negotiated an agreement
with Marshall College to broadcast the school's
football, basketball and baseball games.
When the record-setting 1937 Ohio River flood swept through Huntington,
WSAZ stayed on the air for nine straight days, without any commercials.
It aired thousands of requests for information about relatives and
friends, appeals for help and directives from officials
working to cope with the disaster.
In 1949, WSAZ-TV became West Virginia's first television station,
and in 1953, the Huntington Publishing Co. opened a modern
combined radio and television studio at 201 9th St.
Later, the two stations changed hands multiple times. First they
were sold to Goodwill Broadcasting, which sold them to
Capitol Cities Broadcasting, which then sold WSAZ
radio to Stoner Broadcasting, which changed the
station's call letters to WGNT. Another sale to
Kindred Communications brought another
change in call letters, to today's WRVC.
-----------------------------------------------------------
Note: This Article and picture appeared in the Herald-Dispatch Newspaper on Nov. 19, 2018.
-----------------------------------------------------------
[ Back ]