Ward's Do-Nuts
------------------------------------------------------------------------------------------------------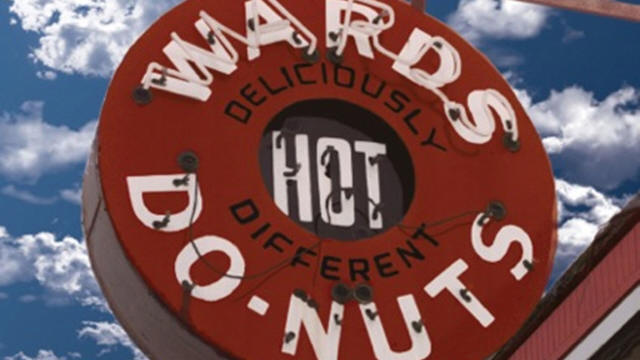 Ward's Do-Nut turned out untold thousands of the tasty treats for more than
50 years before owner Paul Ward Sr. closed it in 2000.
------------------------------------------------------------------------------------------------------
HUNTINGTON -- It's long after midnight. You want a cup of coffee and maybe a bite to eat, but where to go?
For more than 50 years, an easy answer to that question was Ward's, a 24-hour doughnut shop at 1345 4th Ave.,
that was a late-night favorite with Marshall University students, shift workers,
taxi drivers, police officers on patrol and other nighthawks.
The blinking sign out front promised "Deliciously Different Do-Nuts," and the tasty treats that owner-operator Paul Ward Sr.
served up delivered on that promise. Ward said he used an old family recipe from Tennessee to make his "potato doughnuts."
Ward was born Dec. 21, 1922, in Logan County, Kentucky. As a young man, he worked in the Depression-era
Works Progress Administration (WPA) and he fought in the Army in World War II, earning five battle stars.
After the war, he came to Huntington with, in his words, "$350 and a wife and two kids."
He opened his shop in 1947, and, over the next 50-plus years,
turned out untold thousands of the hot pastries.
Ward, who once served on Huntington City Council, closed his shop in 2000 and sold its well-used equipment.
It was "an emotional decision" for he and his wife Maxine, he said, "but I'm 77 years old now and it's just time."
Today, the little red building that housed Ward's for so many years is the home of Rocco's Little Italy,
which serves sandwiches, salads and pasta. Popular local restaurateur Rocco Muriale originally
opened the cozy eatery, then later turned it over to one of his employees, Joon Kim,
who runs it with his wife Jung and his son Joon Jr.
-----------------------------------------------------------
Note: This Article and picture appeared in the Herald-Dispatch Newspaper on August 1, 2016
-----------------------------------------------------------
[ Back ]