Wendell Willkie Speaks
------------------------------------------------------------------------------------------------------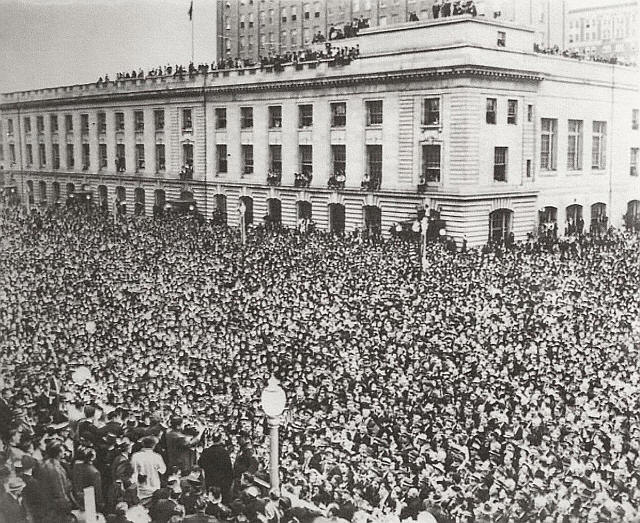 On Oct. 29, 1940, listeners lined the roof of the old Huntington Post Office
to see and hear Republican presidential candidate Wendell Willkie
speak from the steps of Huntington City Hall.
File photo | The Herald-Dispatch
------------------------------------------------------------------------------------------------------
HUNTINGTON — In 1932, Indiana lawyer Wendell Willkie unsuccessfully
sought the Democratic nomination for president. He lost the nomination to
Franklin Delano Roosevelt, who went on to win the election.
Willkie was a hard-hitting opponent of President Roosevelt's New Deal
polices. In 1939, he even switched parties and the following year
saw the Republicans choose him to run against FDR,
who was seeking an unprecedented third term.
Traveling tirelessly during his 1940 campaign, Willkie spoke
in countless communities large and small, often drawing
enormous crowds. Speaking from the front steps of
Huntington City Hall on Oct. 29, only days before
the election, he drew an estimated 43,000
listeners, said to be the biggest
crowd in the city's history.
Beginning that morning, members of the huge audience flocked to Huntington
from southern West Virginia, southern Ohio and eastern Kentucky.
Nearly 300 law enforcement officers — members of the Huntington
Police Department, the Cabell County Sheriff's Office, the
West Virginia State Police and visiting officers loaned
from nearby towns — were on duty to keep order.
Willkie traveled to Huntington aboard a special Chesapeake & Ohio Railway train.
Earlier in the day, both the C&O and the Norfolk & Western (N&W) operated
special trains to bring rally goers to Huntington. Arriving 30 minutes late for his
scheduled 4 p.m. address, the candidate was greeted by 3,000 people at the
C&O station. There he joined a short parade that made its way to City
Hall. An estimated crowd of 5,000 people lined the parade
route. At least half a dozen downtown stores closed
for the afternoon so their employees could
attend the big event.
On Election Day, Roosevelt easily defeated Willkie by 5 million
votes. And despite the record-setting Huntington crowd that
turned out to see and hear Willkie, FDR carried Cabell
County by a vote of 27,806 to Willkie's 20,273.
-----------------------------------------------------------
Note: This Article and picture appeared in the Herald-Dispatch Newspaper on June. 14, 2022..
-----------------------------------------------------------
[ Back ]