Western Auto Store
------------------------------------------------------------------------------------------------------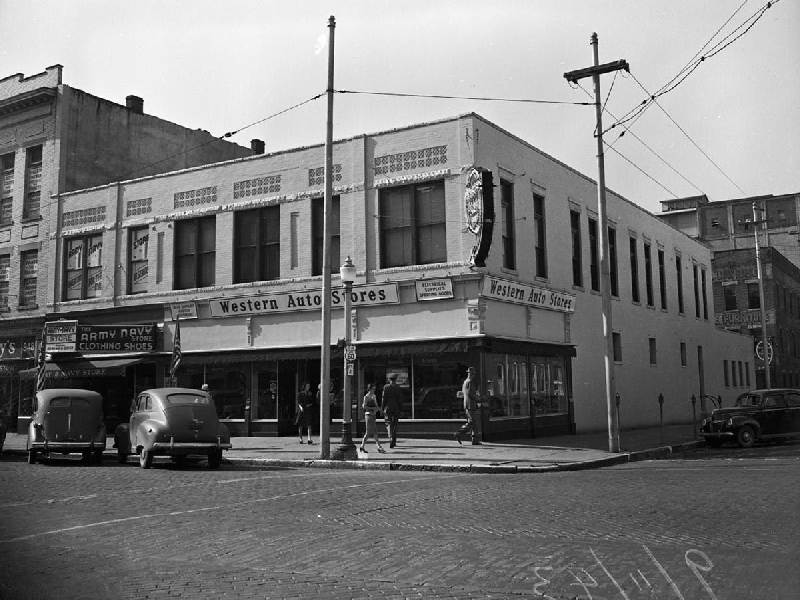 Western Auto Store operated a store on the northwest corner of 3rd. Avenue
and 10th. Street for nearly 35 years, from 1941 to 1075.
------------------------------------------------------------------------------------------------------
HUNTINGTON — For years, youngsters would dream that Santa
would bring them a fancy new bicycle for Christmas.
For some lucky boys and girls, that dream came true when they found a top-of-the-line
Western Flyer bike under their Christmas tree — one that Santa had picked up
for them at the Western Auto store in downtown Huntington.
From its introduction in the 1930s through the 1960s, a Western Flyer bike was
guaranteed to make you the envy of the other kids in your neighborhood.
Western Flyer brand bikes, tricycles, wagons, scooters and sleds were sold by
the Western Auto Supply Company generally referred to as Western Auto.
Partners George Pepperdine and Don Abnor Davis started
the company in 1909 in Kansas City, Missouri.
Originally, it was a mail-order business for replacement auto parts.
It established its first retail store in 1921, and grew quickly
as automobiles became increasingly more common.
At one point, there were more than 1,200 company-owned Western Auto
stores nationwide, usually located in metropolitan areas,
and more than 4,000 associate stores.
These were franchised operations, usually located in small towns.
The company's associate store program was the first of its type,
pioneering the way for modern-day franchise operations.
Western Auto was primarily known for its Western Flyer
bikes and its Performance brand tires.
Other private label brands it sold included Davis Tires (likely
named for Don A. Davis, a Western Auto founder), Tough
One Batteries, Wizard Tools, TrueTone electronic
productions and Citation appliances.
The typical Western Auto store had room for only a limited inventory
of merchandise. But, like Sears and Montgomery Ward, the company
regularly published catalogs that offered a myriad of items.
In Huntington, Western Auto operated a store on the northwest corner of
3rd Avenue and 10th Street for nearly 35 years, from 1941 to 1975.
The building was demolished by the city's downtown
urban renewal program. Today, the site
is part of Pullman Square.
After changing hands several times, the Western Auto chain went out of business in 2003.
-----------------------------------------------------------
Note: This Article and picture appeared in the Herald-Dispatch Newspaper on Nov. 27, 2018
-----------------------------------------------------------
[ Back ]