Gallaher School
------------------------------------------------------------------------------------------------------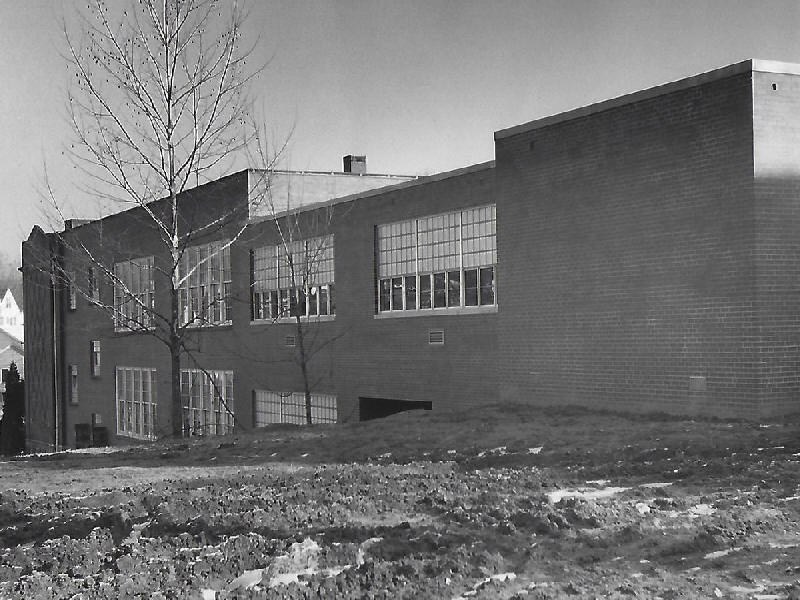 Deemed unsafe due to a structural problem, Gallaher Elementary School
was demolished in 1992.
------------------------------------------------------------------------------------------------------
HUNTINGTON — Today's Gallaher Village neighborhood, once known as Gallaherville,
was named for John B. Gallaher, who in the 1880s owned most of the land in the vicinity.
Gallaherville was made up of a cluster of houses grouped around a store and a one-room
school. The school was located just off the James River Turnpike (now Norway Avenue)
on a country lane now known as Gallaher Street. Two more rooms were later
added. A December 1910 fire destroyed the school, but by the start of
the next school year a new three-room frame school had been built.
The neighborhood was rapidly growing, and the school needed more room.
In 1916, a brick building containing six classrooms and a three-room
basement was built. The three-room frame building was moved
back of the new brick structure and used as a rainy day
playroom. As the neighborhood continued to grow,
the old frame building was again fitted
out for use as classrooms.
In 1938, four new classrooms and an auditorium/gymnasium were added. In 1950,
four additional classrooms, modern restrooms, a cafeteria and library were
built. Four classrooms were added in 1955, and a two-story 1963
addition added four more classrooms and a
suite of administrative offices.
In 1989, Gallaher's original 1916 building tilted forward on its foundation,
causing a safety problem and ultimately prompting the Cabell County
Board of Education to order the school closed. Gallaher's
300-plus students were divided between Geneva Kent,
Meadows and Spring Hill elementariness.
After two years of controversy and despite angry protests from some parents
and neighborhood residents, the Gallaher building was demolished in
May 1992. Today, a Cabell County Emergency Medical Services
station is located on the site of the old school.
-----------------------------------------------------------
Note: This Article and picture appeared in the Herald-Dispatch Newspaper on Feb. 19, 2018.
-----------------------------------------------------------
[ Back ]