Huntington East High School
------------------------------------------------------------------------------------------------------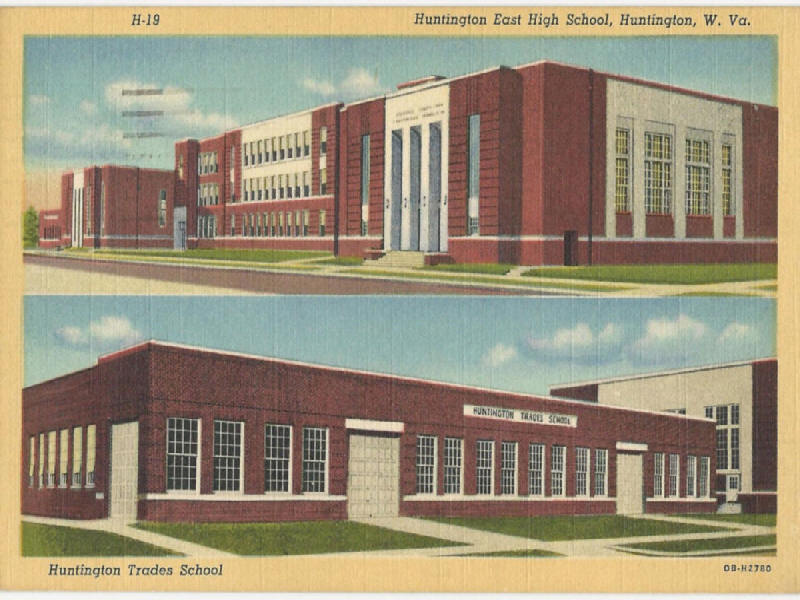 This postcard mailed in 1951, shows how Huntington East High and the
Huntington Trades School looked in 1940's.
------------------------------------------------------------------------------------------------------
HUNTINGTON -- Huntington High School, built on 8th Street on the city's South Side in 1916,
served the community well for many years. But by the 1930s, it was clear that a growing
city had more youngsters than could be accommodated at one high school.
Soon pupils at the badly overcrowded Huntington High were attending school in shifts, with half the
student body going to classes in the morning and the other half in the afternoon. Planning for a new
school began and the result was Huntington East High, built at 5th Avenue and 29th Street in 1939.
For more than a half century, from 1939 to 1996, the Huntington High "Pony Express"
and the Huntington East "Highlanders" were cross-town rivals in many aspects of
student life but especially on the football field.
In 1996, the two schools were consolidated, a move prompted by a need for modern up-to-date facilities.
After the consolidation, the Cabell County Board of Education moved its offices to the former Huntington East.
(The former Huntington High became a multi-use community center.)
The Huntington Trades School was also built in 1939, just west of Huntington East building.
The vocational education program in Cabell County began in 1929 with two classes in automobile mechanics
at Huntington High. Two years later, the program moved to a location at 8th Street and 8th Avenue. In 1933,
the program was moved again, this time to a building at 8th Avenue and 6th Street.
With construction of the Trades School, courses were offered in the construction, electrical and metal trades,
as well as auto mechanics. The school's course offerings were expanded a number of times over the years until
1982, when the new Cabell County Career Technology Center was constructed on Norway Avenue.
-----------------------------------------------------------
Note: This Article and picture appeared in the Herald-Dispatch Newspaper on Sep. 07 , 2015
-----------------------------------------------------------
[ Back ]