Hamburger Inn
------------------------------------------------------------------------------------------------------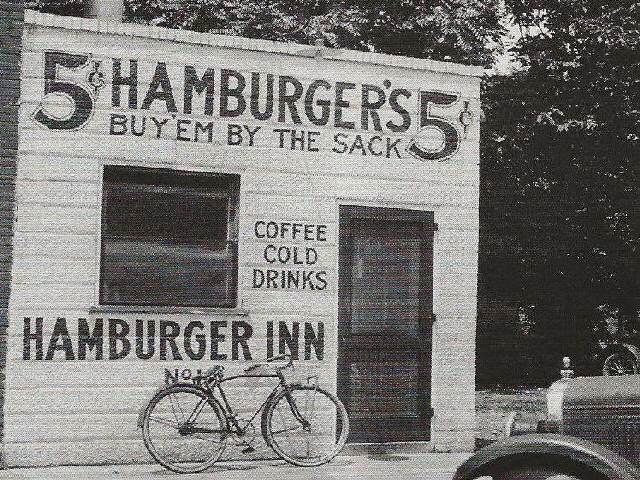 John Witek Hamburger Inn was a small chain of white cinderblock restaurants
that sold 5-cent burgers. Huntington once had a number of the popular
eateries, including this one that stood on 10th Street.
------------------------------------------------------------------------------------------------------
HUNTINGTON — Shopping at an Ohio flea market, Huntington's John Witek
discovered an old cardboard box stuffed with more than 1,000 photo prints
and negatives. The vendor, who said he bought the box at an estate
sale in Huntington, was happy to sell it to Witek.
Researching his find, Witek determined the photos and negatives
were the work of Levi Holley Stone (1898-1981),
a hitherto unknown Huntington photographer.
Beginning in 1912 and continuing on into the 1960s, Stone took photos of
his family and friends, along with many local buildings and businesses
that long since have vanished into the mists of history. Even his
closest friends never realized that many of the photographs
he took were timeless works of art.
One Huntington business he immortalized was the Hamburger Inn,
which stood on 10th Street between 6th and 7th avenues.
Hamburger Inn was a small chain of white,w cinderblock
restaurants that sold 5-cent burgers. The chain was
founded in Kansas in 1921 and spread east to
several states, including West Virginia.
Hamburger Inn had a number of locations in Huntington about
the time Stone took his photo of the one on 10th Street. The
photo, which appears to date from the late 1920s
or early 1930s, provides a look at a long-
gone piece of Huntington history.
John Witek and Deborah Novak gathered more than 200 of
Stone's remarkable photographs in a book, "Huntington:
The Levi Holley Stone Collection," issued by
Arcadia Publishing in 2014.
-----------------------------------------------------------
Note: This Article and picture appeared in the Herald-Dispatch Newspaper on Dec. 31, 2019
-----------------------------------------------------------
[ Back ]