Shoney's
------------------------------------------------------------------------------------------------------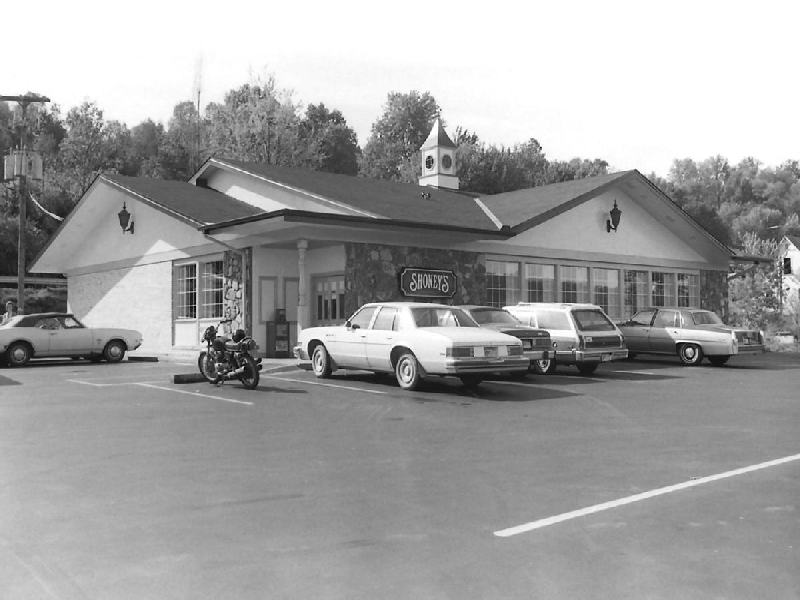 In 2005, the Shoney's at 2123 5th. Ave. was closed, and then
demolished to make way for an Arby's.
------------------------------------------------------------------------------------------------------
HUNTINGTON — In April of this year, when the Shoney's restaurant at 1750 Washington Ave.
closed its doors, it marked the end of an era. The West Huntington eatery was the last
surviving location for a chain that once had multiple restaurants in the city.
A star football player at The Ohio State University in the late 1930s,
Alex Schoenbaum (1915-1996) also became a star in the
world of business as the founder of the Shoney's chain.
Schoenbaum was born in Richmond, Virginia, but moved with his family to Huntington
when he was 10. His father owned Arcade Recreation, a basement bowling alley
and poolroom in downtown Huntington. Young Alex worked there as a
pin boy. After college, he moved to Charleston to manage the
family's bowling business there. And it was in Charleston,
in 1947, that he opened his first restaurant.
In 1956, Schoenbaum revealed plans to open two Huntington restaurants - one on
5th Avenue at 27th Street and the other on the northeast corner of 5th Avenue
and 10th Street. The 27th Street restaurant was later moved to 21st Street.
At 10th Street, Chase Bank was built where the Shoney's once stood.
The newly closed Washington Avenue restaurant was built in 1979. A Shoney's location
on U.S. 60 East was destroyed in a 1993 fire, but subsequently rebuilt. In 2009,
it was closed, then demolished and a CVS pharmacy built on the site.
In 2005, the Shoney's on 5th Avenue closed. It was demolished,
and an Arby's was built on the site.
At its peak, the Shoney's chain had 1,800 restaurants in 36 states. In a 1985 interview with
The Herald-Dispatch, Schoenbaum said of the chain: "I never thought we'd be this big."
He retired that year and spent much of his time during his final years
distributing millions of dollars in charitable donations.
-----------------------------------------------------------
Note: This Article and picture appeared in the Herald-Dispatch Newspaper on June 11, 2018.
-----------------------------------------------------------
[ Back ]