WHTN/WOWK TV
------------------------------------------------------------------------------------------------------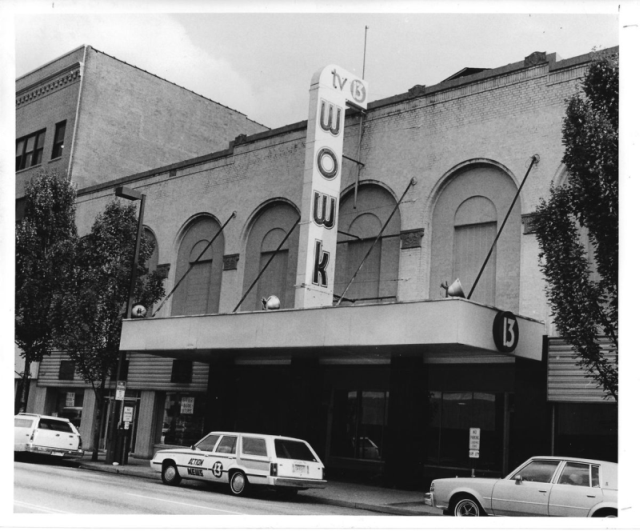 Today's WOWK-TV was known by the call letters WHTN when it went on the air in
1955 at Radio Center (the former Vanity Fair building ) in the 600 block of 4th. Av.
It changed its call letters to WOWK in 1975 and in 1984 moved to a new building
at 5th. Avenue and 6th Street. It later closed its Huntington building , moving its
studio and offices to Charleston.
------------------------------------------------------------------------------------------------------
Editor's note: This is the 180th in a series of articles recalling vanished Huntington scenes.
HUNTINGTON -- As is more or less typical in television broadcasting, television station WOWK,
Channel 13, has had an almost bewildering series of ownership changes over its history.
The station first went on the air in 1955 as WHTN-TV (for HunTingtoN),
owned by the Greater Huntington Theater Corporation. After only
a year, the station was bought by Cowles Communications.
In 1960, Cowles sold the station to Reeves Telecom. Reeves sold the station
to Gateway Communications in 1974. The following March, the station
changed its call letters to its current WOWK to reflect the three states
it serves (Ohio, West Virginia and Kentucky). The same year
saw the station begin using a $750,000 transmitter,
tower and antenna system.
In the 1970s, WOWK was known for its popular Community Day parades,
and the station was in the national spotlight in 1978 when syndicated
talk show host Phil Donahue visited to tape a series of programs.
The station was headquartered at Radio Center (the old Vanity Fair building)
in the 600 block of 4th Avenue from its inception until 1984 when it
moved to a new $4.5 million building at 5th Avenue and 6th Street.
Gateway merged with SJL Broadcasting in 2000. SJL sold to West Virginia
Media Holdings in 2002. Later WOWK moved its studio and offices
from Huntington to Charleston and sold its Huntington building to
regional radio conglomerate Kindred Communications.
In 2015, Nexstar Broadcasting Group announced it would purchase
the West Virginia Media Holdings stations, including WOWK.
WOWK does retain a newsroom and sales offices in its former Huntington
building (now known as the Kindred Capital Building), and its
transmitter is still located at Barker's Ridge near Milton.
-----------------------------------------------------------
Note: This Article and picture appeared in the Herald-Dispatch Newspaper on Apr. 24, 2017.
-----------------------------------------------------------
[ Back ]