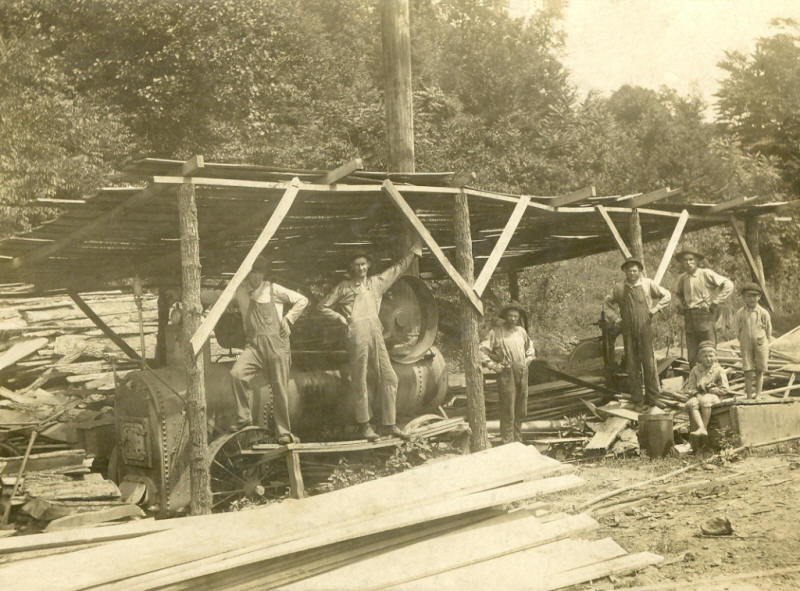 Joshua E. Sawyers was married to Mary Frances Childers (both buried at Baylous), d/o William Lewis Childers (buried at Baylous Hill) and his first wife Elizabeth
(have not found her grave/she died bet. 1867 and 1870). Johsua E. was the son of Joshua Sawyers and Susan Chapman.
In the photo, standing, left to right:Shem, Elonzo, Granville, George, Grandpa Joshua E. The child standing is believed to be Arden. Picture taken prior to 1900.
Shem Sawyers b. 30 Jan 1875 d. 17 Oct 1956, burried Baylous Hill
Elonzo Sawyers (my grandfather) b.31 Jan 1879 d. 10 Aug 1961 (my 16th birthday), burried Highland Memorial Gardens, South Point, Ohio
Granville Sawyers b. 15 Sep 1881 d. 18 Oct 1963, burried Oaklawn Cemetery, Pea Ridge
George William Sawyers b. 14 Oct 1883 d. 27 Dec 1942, burried ??? wish I knew.....died in Huntington, don't remember where he is burried
Joshua Emanuel Sawyers b. 14 Dec 1849 d. 25 Jan 1925, burried Baylous Hill
Arden Sawyers b. Mar 1889 d. abt. 1894, Burried ??? Some place in Cabell County, most probably with just a stone for a marker.
Searched for many years but have never found him.
(photo courtesy of Sheila Merriman)
[ Back ]