Crisel Cemetery
CRISEL CEMETERY
Cabell / Wayne County, West Virginia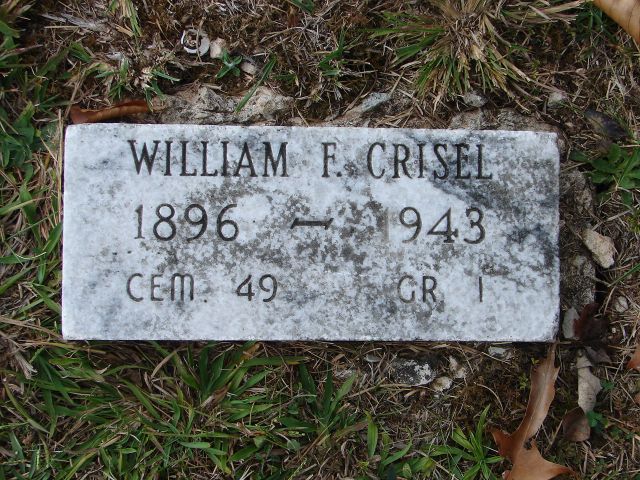 Crisel Detail List
---
Latitude: N 38° 18. 567
Longitude: W 082° 21. 329
Elevation: 782 feet
Accuracy: 15 feet
---
This Cemetery was originally located off Stowers Branch CR 15/2 Northeast of the dam. It was moved to the Bowen Cemetery to make room for the Beach Fork Lake and State Park.
It is now located on a hill above the Beach Fork State Park camp ground and is now a part of the Bowen Cemetery.
The following list was compiled by actual reading of the tombstones. All the information, excluding annotation, is written on the tombstone.
Read by Barry Huffstutler
Read Oct. 15, 2008

Submitted by Barry Huffstutler
---
RICHARD J. CRISEL
1934 ── 1934
CEM. 49 GR. 3
---
WILLIAM F. CRISEL
1896 ── 1943
CEM. 49 GR. 1
---
ANDREW CROCKETT
1871 ── 1958
CEM. 49 GR. 7
---
MARY L. MEALEY
1923 ── 1958
CEM. 49 GR. 6
---
DAVE RUNYON
1866 ── 1932
CEM. 49 GR. 2
Father in law to William F. Crisel
---
BERL SALSBURY
CEM. 49 GR. 4
---
ELIZABETH SALSBURY
CEM. 49 GR. 5