Lighthouse Baptist Church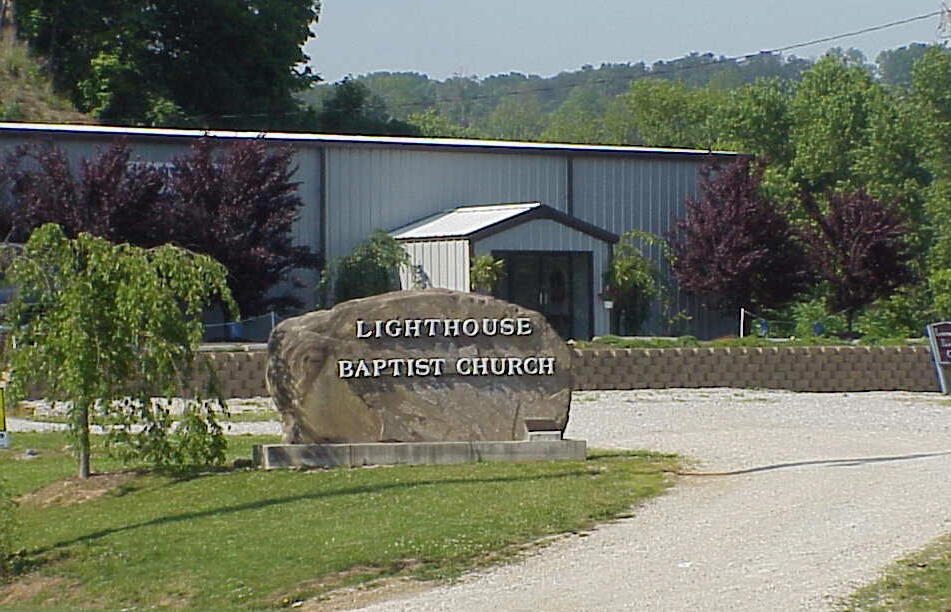 Lighthouse Baptist
( 1299 US Rt. 60 East, Milton )
Pastor - Carl Merritt
Sunday School - 9:45am
Morning Worship - 10:45am
Evening Service - 7:00pm
Wednesday Service - 7:00pm
Church History
Lighthouse Baptist Church was established by a group of people who, being led by the Holy Spirit, had our first service on Dec. 16, 2001, in the home of Lou (Hall) Spears at Cyrus Creek Road. Those who were present voted and agreed to name the church, Lighthouse Baptist. On Dec. 21, 2001, we were in our temporary place of worship, the former auto parts store (a few blocks down U.S. 60), which was painted blue. We prayed and asked Godís guidance of where He wanted the permanent church to be located. God provided the land and the money for our present location.
The ground breaking was Aug. 10, 2002, and the first worship service in the NEW church was conducted on June 1, 2003, which marks our anniversary as the first Sunday in June.
Rock history
When the property for the new Lighthouse Baptist Church was being prepared in early 2002, a large spherical rock slid down the hill and broke in two. Linda Hoover, a member of the church who was sowing grass seed with others of the congregation on Saturday, Aug. 17, 2002, walked over to one of the halves, noticing its shape. She mentioned how that would be a great rock to place out front and make a sign for the new church. Since that day, it was known as "Linda's Rock." On Aug. 25, 2002, (eight days after she laid claim to the rock), Linda and her husband, Ronnie, were on their way to church when they were involved in a collision. Linda was killed instantly and never saw the rock in its present location at the entrance to the church. Since then, "Linda's Rock" has been dedicated as a memorial to her. Friends, students, and co-workers of Carver Career and Technical Center expressed their love for Linda by donating to this memorial.