Walnut Hills (Nazarene) Church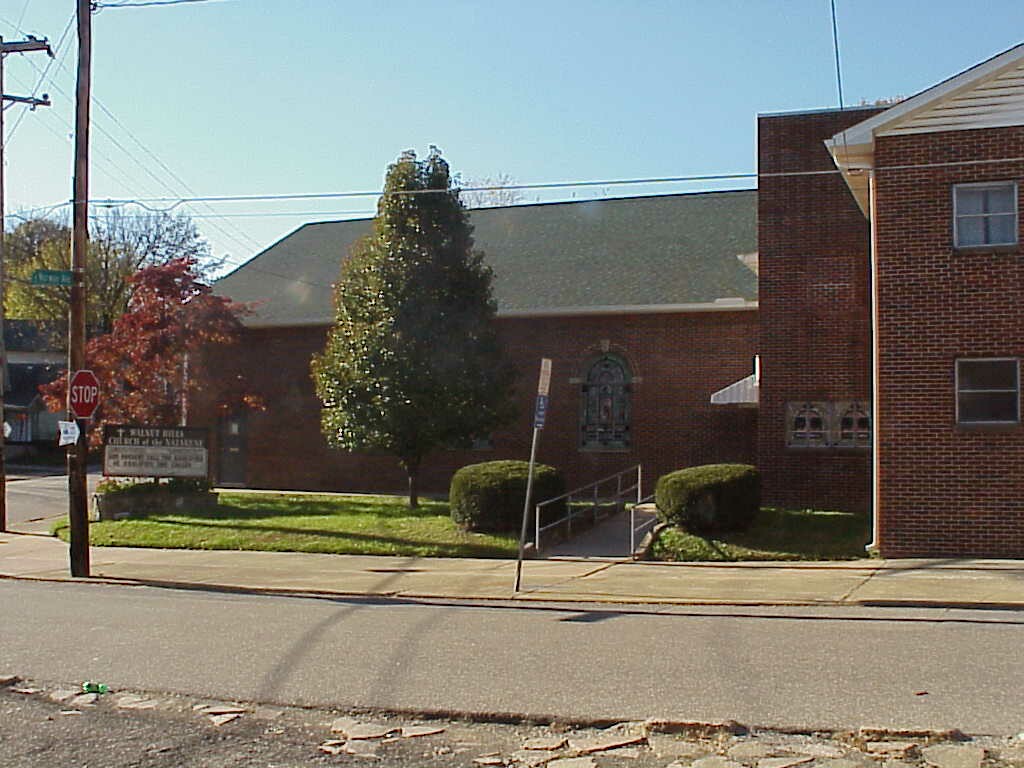 Walnut Hills Church of Nazarene
(340 Norway Av.)
Pastor - Rev. Michael Lyons
Church History
1934 Huntington 1st. Church Pastor Claude Bailey and Rev. John Stackhouse,
alone with 10 charter members organize the Walnut Hills Church of the
Nazarene on April 1, 1934. Rev. Stackhouse becomes the first pastor of
the Walnut Hills Church. During this time, the church is on the WV/KY
District. The church begins in the old Alexander Methodist Episcopal
Church building.
1936 Rev. Alva Estep becomes the new pastor.
1938 Rev. Luther Cobb becomes pastor. Later that year, Rev. Stackhouse
becomes pastor again and purchases lots on Oliver St. and St. Louis
Ave. The Sunday School average for September of that year is 106.
1939 Rev. Morris Cook becomes the pastor and begins construction on a
new church at the Olive St. site, but the work is never completed.
1943 Rev. Thomas Younce becomes pastor, and the church purchases a
house on Springdale Ave. to be used as the church parsonage.
1944 Rev. Asa Sparks becomes pastor, and during his pastorate, the church
purchases the Methodist Church that they had been renting since
1934. The church is dedicated on Dec. 31, 1944. Also during Sparks'
tenure, the church purchases a new parsonage at 303 Norway Ave.
1949 Rev. Giles Graham becomes pastor.
1954 A. M. Hicks becomes pastor.
1955 Construction begins on the first unit of the two-story bricked
education wing, which is completed and dedicated in Feb. 1956. The
congregation uses the downstairs of the annex for regular worship
services as the rebuilding of the old church sanctuary is in progress.
1957 The dedication of the new church takes place in October. The total
coast of the new educational wing and sanctuary is $47,000. The
sanctuary seats 400 downstairs and 100 in the balcony.
1958 The Sunday School average in April is 292. Four hundred twenty-
four people attend Sunday School on Easter Sunday.
1960 Ira Fowler becomes pastor.
1962 O. F. Haynes becomes pastor.
1972 Rev. Brady Riffle becomes pastor.
1977 Rev. Allen Woolums becomes pastor.
1986 Rev. Dale Orihood becomes pastor. During this time, the parking
lot located at the back of the church is lowered and paved. On Sept.
30, 1990 the new Family Life Center is dedicated.
1994 Rev. Gary Hayes becomes pastor and purchases and demolishes the
house next to the church and builds a parking lot. In 2003 the church
votes to relocate the church to an undermined site.
2005 Rev. Michael Lyons becomes pastor. A major renovation of the church
sanctuary begins in February of 2006. The sanctuary is dedicated on
August 20, 2006.