Ousley's Gap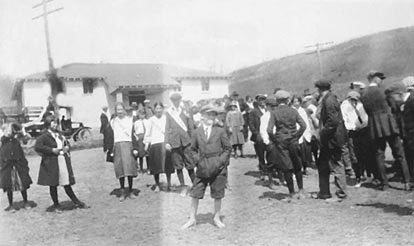 A brief history of the Ousley's Gap Community


George S. Swann
Contributing Writer

Note: This multi-part article is courtesy of George Swann and the "Doors to the Past" website.

SALT ROCK -- Most people today only know McComas Road takes you from Barboursville to Salt Rock. They do not realize that they are passing through three extinct little villages along the way. All the old history of Ousley's Gap, Inez, and Roach has pretty much disappeared.

135 years ago they would pass by the tiny town of Ousley's Gap, West Virginia. Before going into further detail of Ousley's Gap and it's surroundings, it would be good to go back in time and explore the early families and occupations of this area. My family has lived in Cabell County since it was formed. Up until the last 30 years, most of the people you find living in this area of Cabell County descended from these pioneer families.?

Captain Andrew Supplee Hatfield, a veteran of the Revolutionary War, was born in Montgomery Co. Pennsylvania July 25, 1737. He made his way across Virginia, finally settling in Giles Co. after the War. Captain Hatfield bought 578 acres in Kanawha Co. from David McComas on a deed dated Sept. 15, 1802. The land was located along the Guyan river and included what today is known as Roach & Hinchman Bend.

Andrew moved to this area with his wife Christina, and four of their eight sons, in 1804. (Remember that this area was part of Kanawha Co. until 1804. Mason Co. was formed in 1804, and Cabell was formed in 1809). Andrew died Jan. 15, 1813 at Roach.

He is buried by Roach Road in what is known today as the Frye Cemetery. However, due to the stones being removed many years ago, his grave is unmarked.

Several years ago the Daughters of the American Revolution placed a military marker for him in the Hatfield Cemetery at Inez.?

Ransom Dial was born in Antrim Parrish, Halifax Co. Virginia, on Dec. 28, 1774. After moving to Stokes Co. North Carolina in 1801, he came here. His name is on the 1806 tax list for Kanawha Co. By 1810, he was living in the Roach area of Cabell Co. where he married Nancy McComas that same year.

Ransom Dial was a veteran of the War of 1812. His children would marry into the McComas, Swann, and Hatfield families. Ransom Dial died April 2, 1857. He and Nancy are buried in what is today called the Farley Cemetery at Roach.

Leven C. Swann was born in Charles Co. Maryland in 1764. He married Elizabeth Jenkins Jan. 6, 1791, in Amherst Co. VA. They moved to Kanawha County between 1800 - 1805, and on to Cabell by 1810. Leven was a blacksmith, as was three of his sons. An interview with a grandson from about 1913 stated that Leven had made some of the first tools used for boring salt in Kanawha Co.

No other documentation has ever been found to prove this true or false. Leven Swann died Jan. 10, 1842 at age 77. He is buried in the Swann Cemetery, which is located a few hundred yards down the hill from the Mt. Pisgah United Methodist Church.?

John Tyler Morrison was born in Pittsylvania Co. VA. on Oct. 25, 1785. He married Nancy Thompson before going on to serve in the War of 1812. They came to the area about the same time as the Swanns. They lived around Roach for many years. John died on Nov. 21, 1867. He and Nancy are buried in the Swann Cemetery.?

Not a lot is known about David Woosley. He came to Cabell Co. before 1815. David purchased 50 acres of land on a hilltop from Thomas & Hannah Hatfield in 1816. On May 12, 1825 Woosley sold his land to Hezekiah Swann for $100 and moved west. David Woosley must have been a fine man. He was the first man to live in the hilltop area near Roach. He only lived there about ten years. Yet today, 175 years later, this area is still known as Ousley's Gap. No one knows why David Woosley's name and the town Ousley's Gap name are spelled slightly different and probably never will.

Adam Hatfield, son of Andrew Hatfield, came this way in 1804 with his parents & three of his brothers (one of which, Thomas, was mentioned above). Adam was born Oct. 19, 1774 in Fincastle Co. VA. He married Mary Williams (German) and had a large family. Nearly all the Hatfields in this area of Cabell County descend from Adam's family.

Two of his children, George and Catherine, married into Leven Swann's family. Another son, Henry, married Katherine Dial, daughter of Ransom.

Incidentally, Ransom Dial's son Elisha married Adam's granddaughter Mary F. Hatfield.

Adam Hatfield lived on what is today remembered as the King farm at Inez. He was a farmer, and also carried on the work of tapping maple trees in what used to be known as the "Sugar Forest" near Inez. Adam died on June 18, 1855. He and Mary are buried in the Hatfield Cemetery at Inez. ?

Josiah Swann was born Oct. 5, 1795 in Amherst Co. VA. He married Edith Maab in 1819. She was a daughter of Phillip Mayab, about whom very little is known. The Maab name is spelled at least three different ways within the family. Josiah & Edith moved with the Mayab family to Clay Co. Missouri about 1820. Their first son Calvary Morris Swann was born May 15, 1820. No one is certain if he was born here or in Missouri.

The story passed through the family is that Josiah had three more children (two boys and a girl) in MO. Edith died about 1827. Josiah found the children homes and boarded a boat to return to Cabell County. Calvary, the oldest, sneaked onto the boat and hid until it was too far away from shore to return, then emerged and found his father. Josiah & Calvary made their way back to Ousley's Gap, where Josiah remarried and raised a large family.

Josiah married Rachel Morrison, a daughter of John T. Morrison, in 1830. Calvary went on to marry Rachel's sister Emily in 1841.

Josiah Swann was a blacksmith and craftsman. He made blanket chests, buckets, barrels, wheels & rims for wagons, cow bells, spinning wheels, and numerous other items which he offered for sale. Cow bells, rocking chairs, spinning wheels, and blanket chests are still owned by members of the Swann and Hinchman families today, handed down from one generation to the next. Josiah died July 16, 1871 at Ousley's Gap.

He is buried in the Swann Cemetery.

Tradition is that both of his wives are buried in the rock marked graves to the left of his. However, I do not know how they got his first wife back here from Missouri for burial.

William Hinchman, Jr. was born Dec. 23, 1800 at Wolf Creek, Montgomery Co. Virginia (today Monroe Co. WV). His parents, William and Mary Hinchman, were on the 1815 tax list for Cabell County. They actually lived in a part of the county that was cut away to form Logan Co. in 1824. William Jr. was married three times. Each wife was named Elizabeth. He had three children by his first wife, and seven by his second wife.

William's second wife was Elizabeth Hatfield, a daughter of Adam. William Jr. lived in what is today known as Hinchman Bend along the Guyan River at Roach. He was serving as a Cabell County magistrate when the Civil War broke out in 1861. William went to Guyandotte and voted against Virginia's secession from the Union.

He was captured by the Confederates at the Battle of Guyandotte in 1861, and imprisoned. He died in Libby Prison on Oct. 2, 1862. His body was supposedly brought back to Roach and buried in the old Hinchman Cemetery (now known as the Frye Cemetery) along Roach Road.

While farmer and blacksmith were the most common occupations during this time, there were some preachers as well.

Leven Swann's son Benjamin Franklin was both preacher and blacksmith. He was licensed to preach by Mud River Baptist Church in 1821. He left the church in 1827, with no record of him ever preaching there. He moved to Sangamon Co. Illinois and lived for almost 10 years. He was back in Cabell County before 1840. Benjamin and his family were members of the Greenbottom Baptist Church from 1842 until 1859. Church records show that his license to preach was "recalled" in 1851 at Greenbottom. His preaching was deemed "unprofitable". Benjamin lived in Mason County for a while. He died July 2, 1870 at age 68, while living with his brother Hezekiah at Roach. ?

Thomas Rezin Swann was born in Amherst Co. VA. in 1776. He came here with his brother Leven. He married Isabelle Kelley and settled on Smith Creek. He was a blacksmith, but was also licensed to preach by Mud River in 1821. There is no record of him ever preaching there. Thomas died July 28, 1855. He is buried in the Swann Family Cemetery located in the Asbury Woods Methodist Church Camp, which is on Rt. 10, just over the hill from Roach.