Blenko Glass
<![if !vml]>

<![endif]>
William J. Blenko was born in 1853 in England. He worked in London glass houses when he was 13 years old and eagerly learned about glass formulation. In 1893 he came to America with the intention of starting the first glasshouse that could supply mouth blown (Antique) sheet glass for stained glass windows. At this time, all antique glass was produced in Europe (France, England, Germany) The first Blenko Glass Company was founded in 1893 by William J. Blenko in Kokomo, Indiana.
William J. Blenko arrived in Kokomo, Indiana and set up a small shop. In time, he hired and trained other glass workers. William remained in Kokomo until 1903 when economics in America forced the factory to close. Over the years, William became aware of the prejudice against American-made glass. Since the studios were owned by former Europeans, they had a natural bias in favor of European glass. William Blenko faced this prejudice until death.
<![if !vml]>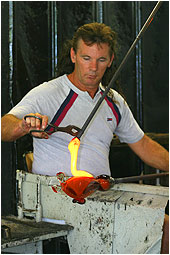 <![endif]>
In 1909 he started a factory in Point Marion, Pennsylvania, and later in Clarksburg, WV. Unfortunately, both of these ventures failed. A letter indicates he was working in Bellaire, Ohio in 1919 at an unknown glass factory for $40.00 a week. William was at some time offered a job at Tiffany's in New York for $50.00 a week and he apparently took this job. Finally in 1921, he decided to move to Milton, WV because of the low natural gas prices there. William was now 67 years old, an age when most people retire. Working by himself, he blew the glass cylinders, flattened them into sheets and then went on the road in his Model T car to sell them.
The original name of the company was Eureka Glass Company. It was called this because William J. Blenko spent years trying to find a ruby red sheet glass that would not change colors when painted and fired. When he developed this color, he threw his arms in the air and said, "Eureka, I've found it!" In 1923, his 26-year-old son William H. Blenko Sr., with wife Marion and two-year-old son William Jr. joined him in Milton. This is when the factory finally took off.
By 1927, Eureka antique sheet glass was specified for the Liverpool Cathedral. In 1929, sales were slow due to the depression in America. Bill Sr. seeing a need to make more business, contacted a Boston Importer, named Carbone. Carbone was importing his glass vases from Venice, Italy. Bill Blenko told him he could manufacture them, and save Carbone money. In reality, Bill Blenko did not have the skilled men to make them. When he returned to Milton, he found two Swedish glassworkers to work part-time. They were brothers Axel Mueller and Louie Miller. These two men were highly skilled in stemware manufacturing, and set the standard for all craftsmen to follow. The first samples were made in 1929. Thereafter, hand blown tableware was a major aspect of the Blenko business. In 1933, William Sr. negotiated a contract to become the exclusive manufacturer for Colonial Williamsburg. This step was the beginning of Blenko producing fine tableware fulltime. William Sr. died in 1969.
William H. Blenko Jr., was born in Lancaster, Ohio in 1921. After graduating from the Carnegie Institute of Technology in 1942 with a Bachelor of Science Degree, Bill Jr. joined the United States Air Force where he served in England as a Captain. This is also where he met his bride to be, Jeanne. In 1946, after serving his time in the 8th Air Force, William H. Blenko Jr., became the 3rd generation to join the family business of glass making. By 1969 Bill Jr. was appointed President of the company. William Blenko Jr. is still active in the company as Chairman.
In 1976, Richard Deakin Blenko, son of William Jr. joined the Blenko family business. With Richard, the fourth generation of Blenko glass making began. In 1989, he published the book 'Blenko Glass 1930-1953', and founded the Blenko Glass Museum. He has carried the Blenko Handcraft name to PBS (Public Broadcasting Service) in numerous fund raisers for PBS, and has become the newest and most visible face for the Blenko Handcraft Company. He has appeared on CNN, Fox Television and has been the topic of many national print articles. Today, when people think of Blenko Handcraft, they usually think of Richard Blenko.
Tours of the art of actual glass blowing are free for the viewing at the Blenko Museum at Milton, Monday through Friday's till 3:00 P.M
<![if !vml]>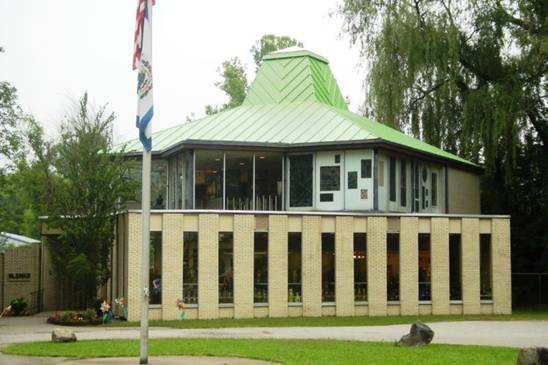 <![endif]>
Submitted by Ed Prichard
December 30, 2007