Odds and Ends

Dr. Carter G. Woodson (1875 - 1950)

Dr. Carter G. Woodson (1875 - 1950) Known as the Father of Black History, this son of former slaves was born on December 19, 1895 in Buckingham County, Virginia. He and his brother moved to Huntington to further their education. He graduated from Douglass High School in 1895 and returned to serve as its principal from 1900 to 1903. He earned a Ph.D. in History from Harvard University and in 1926 he launched "Negro History Week" which has been expanded to "Black History Month", now observed every February in the United States.

---
Hal Greer

This NBA Hall of Famer was born in Huntington on June 26, 1936. He graduated from Douglass High School and played his collegiate basketball at Marshall University. He was the first black player to play for a major college team in West Virginia. He went on to become one of the NBA's most productive players and has been chosen one of
The 50 Greatest Players in NBA History
Hal Greer Boulevard, one of the main thoroughfares through Huntington, was named for him.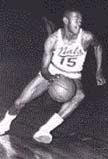 ---
Milton, West Virginia
On September 16, 1876, the Town of Milton was incorporated. In January of the same year a covered bridge was opened, which was used to provide access from James River Turnpike to the newly established Town. Historic Union Baptist Church which was organized in 1810 and was used during the Civil War by Union troops who occupied the building as a military post. In 1922 Blenko Glass company was founded and is still in operation today. In the 1930's Morris Memorial Hospital was constructed, which became nationally recognized for its treatment of polio. Now the buildings are used by Morris Memorial Convalescent and Nursing Home.
---
Fannie Cobb Carter
Fannie Cobb Carter, 1872-1972; educator; superintendent of first Industrial Home for Colored Girls in Huntington (1926-1936; director of adult education for Negroes in Kanawha County; dean and acting president of National Trade and Professional School for Women and Girls in Washington, DC.
---
Marshall University's James E. Morrow Library, located on Third Avenue on the north side of campus, was constructed in 1930 and named to honor James E. Morrow, who headed Marshall College from 1872-73 (he was the father of Dwight Morrow and grandfather of Anne Morrow Lindbergh).
---
James Holderby, 1782-1855
James Holderby , owned and operated Holderby's Landing. It came into existence in 1821. He built a brick house and landing near the foot of 16th St. and the Ohio River. Now called Hal Greer Boulevard, the landing was near the Old State Road, and later the James River and Kanawha Turnpike.
Part of the Holderby's farm was sold to Collis P Huntington by James's sons, William and Edward . James Holderby also sold the trustees of Marshall Academy (later the State Normal School, then Marshall College, finally, Marshall University) one and one forth acres for the school in 1838