3 CCC Camp
Civilian Conservation Corps Company 1512
Camp Cabell, SCS-10
Milton, WV 7/31/1939 - 1940?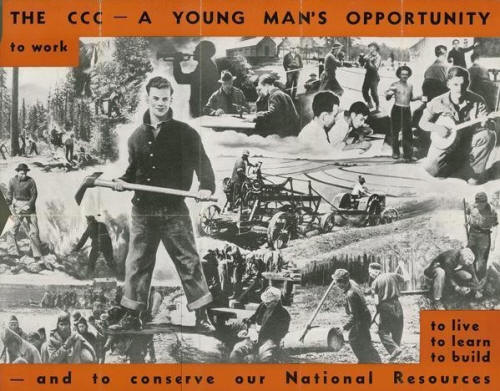 On the heels of the "Roaring Twenties" and following the market crash of 1929, the Great Depression engulfed America and flowed unchecked across our Land. Economic hard times were everywhere. Many Americans became homeless. Families were split up; forced to live apart. Children became orphans. There was little gainful employment. To help ease the unemployment situation, one of the first things President Franklin Roosevelt did in office, was to establish the Civilian Conservation Corp, the CCC. He did this with a stroke of a pen on March 31, 1933.
The purpose of this CCC program was to put unemployed young men to work in useful, needed conservation projects around the country. The plan was swiftly put in motion. Within 3 months, over 275,000 enrollees and supervisors were signed up across the nation and began work on critical conservation projects planned by foresters, or, as the case might have been, park service rangers, soil conservationists and extension educators.
While most CCC camp were junior camps with enrollees 18-25 years old, there were a few camps for veterans of World War I. Veterans camps are indicated by a "V" following the company number and African American camps by a "C." Companies 1547V and 1558V were veterans camps and 3538C was an African American camp. The U. S. Soil Conservation Service sponsored the SCS camps. In the 9 years from 1933 until the CCC program phase-out in 1942, there were over 3 million enrollees and more than 1,600 camps throughout the country.
In West Virginia, the earliest camps were activated on May 20, 1933 in Tucker and Randolph Counties. Altogether, there were 67 CCC camps and 55,000 enrollees who served in the Mountain State over the nine year span of the CCC program. In 1936 alone, 8 CCC units (about 1600 young CCC enrollees) worked with farmers and developed soil erosion control practices on over 48,000 acres on 918 farms in West Virginia.
(Ref: 1936 WVA Blue Book)
SCS-10 Camp Cabell was located in Cabell County about two miles east of Milton on bottom land of the Thomas Joseph Berkeley farm, south of US Rt. 60 and between the highway and the railroad tracks. Thomasís wife, Ida, was the daughter of Charles K. Morris and Martha Kilgore.
Due to its location, the camp was able to obtain water service from the Town of Milton. The camp was occupied July 31, 1939 by CCC Company 1512 which had been transferred from Camp Crawford, SCS-2, Elizabeth, WV.
Work on local farms included fence construction, gully treatment, surveying and land preparation for strip cropping. A major project was the construction of a dam, crating a one acre pond, about a mile southeast of Milton on County Rt. 25.
H.B. Fisher and Homer G. Davies were company commanders and H. G. Debald was camp superintendent.
The last inspection report was dated August 2, 1940, however, it is believed that the camp remained in operation until May or June of 1941. The camp buildings were dismantled in September and October of that year.
The CCC was based on the chain of command structure used by our armed forces with officers in charge of the men. The CCC workers received free meals and barracks-style accommodations, and were paid $30 a month - under orders to send $25 of that sum home to help with their families' welfare. The physical camp was also laid out in military fashion and consisted of four 50 man barracks, a kitchen, mess hall, recreation hall, army reserve officers and statesmen quarters, as well as supply buildings, garages and storage areas. The buildings were of pine lumber covered with tar paper and wood strips. The buildings were constructed in four foot sections for easy relocation when the camp moved. In addition to their work duties, the men also received training for their social development and education. Five objectives were set for the men: elimination of illiteracy, development of a respect for and a responsibility to superiors, development of social relationship skills, development of good behavior, and learning the methods of securing a job. Basic reading, writing and math skills were taught along with specialized trades in areas such as forestry, bookkeeping, mechanical drafting, The CCC combined employment, and public service. It put young men to work, rather than on welfare. It left a legacy of national service that not only contributed to the public good, but also helped individuals rebuild lives shattered by the Great Depression.
DAILY LIFE IN A C.C.C. CAMP
Reveille was at 6:00 AM, the camp leader blew a whistle as he strolled through each of the four (4) barracks to awaken the men. At 6:30 AM. The men formed out doors, and stood at attention in front of the flag pole for roll call and the daily ritual of raising the American flag.
Later they returned to the barracks to make-up their bunk-beds and to "wash-up". The work week was Monday to Friday. They dressed in work clothes of denim. At 7:00 AM they marched to the mess hall for their morning breakfast .At 7:45 AM was a daily inspection of the barracks by a camp officer. They had to have their bunks, foot lockers and clothing gear in a military precision form. At 8:00 AM an alarm gave notice to report to our work assignment.
When they left for their job site, they were given brown paper lunch bags - the lunch never varied, we were given one baloney sandwich, one peanut-butter and jam sandwich, with a piece of fruit.
They had a one hour lunch break. The days work was over at 4:00 PM. After returning to camp, they showered and changed their clothing ...
At 6:00PM the men "lined-up" outside the barracks, facing the flag pole for Retreat. With the lowering of the American flag, they then marched to the mess hall for dinner. Each man ate at an assigned table. K P duties were rotated from members of the camp; waiters on K P duty served the food to the tables.
The Post Exchange was opened from 7:30PM -9:00PM. Available was soda, candy, etc. The men were permitted to buy a $2.00 book of tickets stubs on credit which was later deducted from their pay on payday. Payday came at the end of the month. Their salary was $30.00 a month, $5.00 in cash to each member and the remaining $25.00 was sent home by the government.
Most felt that it wasn't such a bad deal to receive clothing, bed and board and health welfare in the difficult depression years..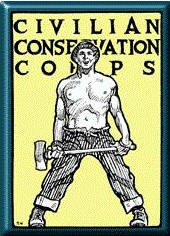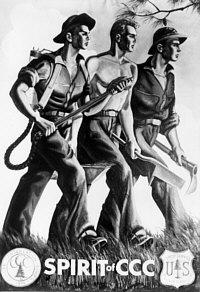 Spirit of CCC " poster depicts three CCC boys carrying the tools of their profession, the water backpack, mattock, and the tree planting bar. The original was a 4x6 foot oil painting, created by Harry Rossoll in 1938. Harry Rossoll later became well known as one of the artists of Smoky the Bear.
Submitted by Ed Prichard