Prichard School
Sheaves of Loving Care:

A History of The Prichard School
By Harry "Buddy" Beckett
With assistance from the following: Sharon Hayes, Lucy Prichard, Fred "Bubber" Prichard, Mildred Caldwell, Helen Adkins Rimmer, Mary Rose, T.A. Chapman, Chuck Everette, and the PILOT CLUB OF HUNTINGTON
The stately PRICHARD SCHOOL, located 3 miles north of Ona, WV, has been a venerable Cabell County Landmark since 1927, and was once an integral part of the Ona and Howells Mill communities.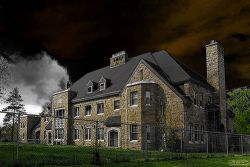 Pritchard School in older times Its architectural beauty rivals the famous "Biltmore House" in Asheville, North Carolina. But the real beauty is in the reason for its existence. It is the manifestation of a dream fostered by Fred C. Prichard after becoming wealthy from owning several West Virginia coal mines. The grand structure of native stone from a quarry on the property is now vacant. Bustling activities within its massive walls are now just a memory.
Only the necessary stirring of a caretaker invades the solitude of its spacious rooms. It is in commendable condition and proudly stands as an honorable and impressive monument to Mr. Prichard's inspiration and to the dedication and resolve of Misses Kathleen Kennedy & Louise Ash.
They were renting a cottage from Mr. Prichard at Montreat, NC when they first met in 1923. The two hardworking, talented young ladies sub-rented the cottage to 26 boarders. Their fame for serving the best food in the county was widely known, even in Huntington, WV, home of their landlord. Mr. Prichard made a special trip to Montreat to meet the enterprising entrepreneurs and to sample their celebrated cuisine. Their meeting must have been providential. During a discussion on the cottage's front porch in the cool of the evening, the three gifted and industrious people realized they shared a common dream of establishing a Christian Home and School for needy children. Mr. Prichard and his wife Alice could not have children of their own. He wanted to use his money in a Christian way by providing a home for children without a home. When they asked if they could be a part of his endeavor, he knew they were the catalysts to stimulate and hasten the fruition of his dream. Fred Prichard was ecstatic. He returned to Huntington to initiate his benevolent plan for a structure to be situated on a commanding height that would be a place of safety and refuge for homeless children - a citadel.
The soon-to-be managers of the PRICHARD SCHOOL had met while attending Agnes Scott College, in Decatur, Georgia. Miss Kennedy was a senior, Miss Ash was a freshman and they would often talk about doing something together after college. When Miss Kennedy graduated, her one-year companionship with Louise Ash became secondary when she fell in love and was engaged to marry. A person's most sincere intention is not always the LORD'S will. Her fiance' died just before their wedding. After recovering from this dark chapter in her life, she taught Latin, Math and Art for a year at Martin College of Pulaski, TN.
Miss Ash graduated from Agnes Scott and went on to earn a Master's Degree from Columbia University. Their college friendship was then re-kindled and their talk of "doing something together" became a reality when they opened a Gift Shop & Tea Room in Sarasota, FL. They were energetic and resourceful and were successful in their first venture together. But when hot nights affected their sleep, they closed the Shop for the summer and moved to a Presbyterian Resort at Montreat, NC, twenty miles from Asheville. Just before the summer was over, they received a telegram from Mr. Prichard. He asked them not to return to Florida because he was purchasing land for the SCHOOL. He may have added that his dream was coming true. Two elated young ladies charted a new course - not to West Virginia, but to Grundy, Virginia.
They would be there for four years as assistants and teachers in the Presbyterian Mission School, training to be managers. While they were learning about Home Missions, construction of Mr. Prichard's dream project was underway. Summer visits to view construction progress enabled them to bear unexpected hardships during their Grundy internship. They coped with rats and medical emergencies that included epidemics of measles and tuberculosis, plus numerous cases of spinal meningitis and tetanus. And with all of this, they had to endure smothering mountains fore and aft of Grundy. Fleeing the oppressive terrain was a blessed relief when finally in 1927, the two kindred-spirit friends sailed with a Heavenly tail wind from Grundy to Ona, WV. They happily started cleaning the 21 rooms - the boy's and girl's dormitories, sitting rooms, sleeping rooms for matrons and teacher, the schoolroom, the kitchen and dining room, and the assembly room or Chapel. The spacious Home also included storage on the third floor and in the basement. The schoolroom was for resident children and other children in the immediate neighborhood. The first teacher was Miss Thelma Pittard, who was an accredited teacher. After she left, Miss Beulah Fisher replaced her. The children were taught grades 1 through 6 until they attended public school.
Mr. Prichard indeed designed a comprehensive complex on a 650-acre tract of land he started purchasing in December 1924.
| | |
| --- | --- |
| The large tract is situated along a pretty section of Mud River. He planned for the enterprise to be essentially self-sufficient by providing money for operating and maintenance expenses. In addition to the SCHOOL, his plan included a dairy barn with 40 Guernsey cows. Excess milk, butter and cottage cheese were sold to help defray expenses. Also, the children helped by raising chickens and turkeys, and they did a big share of the gardening. | |
Revenue from his Prichard Hotel, located at 6th Avenue and 9th Street in Huntington would help with expenses - plus - produce, poultry and dairy products from Ona would help the Hotel.
Electricity to power the SCHOOL and dairy barn was part of his inclusive plan. Electricity in the community from a Public Utility Company would not be available for another 20-plus years. So! Mr. Prichard purchased two and a half acres at Howell's Mill in December 1925 that included a 3-story wooden Gristmill and a wooden dam. The Mill was located at the left end of the dam and powered by a five-foot diameter water wheel. The wheel was under the Mill and in a horizontal position with a vertical power shaft. The Mill was moved closer to the front yard of Callie Rimmer's 2-story house and a brick powerhouse was erected where it had stood. The wooden dam was replaced with a concrete dam. Electricity generated at the new powerhouse was only available for about seven years. It was soon discovered why the river was so named. In the summer when refrigeration was needed the most, suspended mud in the water would settle and clog the penstocks in the powerhouse resulting in periods of no cooling and no lights ("There were many trembling cries in the darkness").
The powerhouse (minus its three generators) and dam are still in place. The Mill's superstructure was removed around 1940. Starting in the 1950's, the first floor concrete pad was used as a picnic area managed by a Fishing Sport Club. In the 70's, Charles Robert "Rob" Lewis constructed a block building with a gambrel roof on the pad. For a while, a large upstairs room was used for country music entertainment. Roy Midkiff now living on Howell's Mill road was one of the "pickers and grinners". The building used as an auto repair garage was destroyed in an early morning fire this past January.
Along with his enterprise being self-supporting, many local young men and women found employment at the dairy barn and in the operation of the SCHOOL.
Back to the SCHOOL - after the cleanup, seven children were presented to Misses Kennedy & Ash to provide for their physical comfort and social welfare. The two college friends started in June 1927, on a ministry that would keep them working together for 39 years.
Fred Prichard's inspired plan to provide shelter and dignity to homeless children worked for two years. But who can know how the spring of life unwinds? The Great Depression that started in 1929 turned his noble dream into a nightmare. Assets became liabilities and cash flow was nil as he retrieved but pennies from his invested dollar. He suffered great financial losses and could no longer bear the major role in debt retirement. His Hotel in Huntington had to be sold. He could no longer support the welfare of the children. Their place of safety and refuge was ready to be another victim of that troubled time. He sat by the big fireplace and cried like a baby while informing the two kind, diligent ladies that the SCHOOL would have to close.
They resolutely countered with the fact that GOD had directed three caring hearts to establish a home for needy children, and it could continue on FAITH.
At this juncture, Mr. Prichard's cousin stepped in to help. He was Doctor Karl Prichard who told all his patients about the Christian venture at Ona. They graciously responded with money, food and clothing. Many letters delivered by Walter Dailey contained money - often the exact amount needed to pay a bill. Through FAITH and the awareness of Divine approval, the matrons diligently and unselfishly worked to keep the children fed and protected. With sacrifice and frugality, bills were paid.
Mr. Fred Prichard had earlier moved to Texas but not before he had signed over his saved coal and gas royalties to the SCHOOL. He would visit and he must have been pleased when he saw evidence of the intrinsic qualities possessed by the two college friends. He had recognized the magnitude of their devotion to a project during their first meeting in 1923. With much hard work and some outside help, the SCHOOL survived between the years 1929 to 1938. During those Depression years, a FOUNDATION was accumulating money to pay the indebtedness. But hours before the total amount was raised, an insurance firm holding the mortgage sold the property. The new owner agreed for the FOUNDATION to rent the SCHOOL. Dr. Karl Prichard died in 1942, and rent had increased so much that a more economical facility was needed. In Miss Kennedy's words, "We had to leave and didn't know what we were going to do."
The major portion of Fred C. Prichard's wealth had vanished with the stock market crash on 29 October 1929. But his vision to help the needy was in no danger of collapse. The LORD had sent him two dedicated matrons to manage his DREAM, and then Dr. Karl Prichard was sent to help sustain it until his death. When the end seemed near in 1942, The LORD sent a Mr. Charles Love (of C. M. Love Hardware) to step in and help. Mr. Love helped by locating a large affordable house with 168 acres on Newmans Branch near Milton, WV. Mr. Fred C. Prichard helped by giving the majority of his last saved money toward the purchase of the new facility. All his charitable and honorable gifts definitely elevated the meaning of "unselfishness" to a higher plane.
The new house was adequate but a less stately facility than the mansion at Ona. The PILOT CLUB OF HUNTINGTON insured the continuing success of the SCHOOL by making it one of their major projects from 1948 to 1966. Because Mr. Prichard wanted to use his money "in a Christian way", 50 young lives were nourished and enriched under the tutelage and Christian influence of two college friends who wanted to "do something together".
Mr. Prichard's obedience to God's will in his life must by now be evident. He had a kind and gentle heart that focused his energies to the need of others. There was another side of Mr. Prichard - he was a really shy person and would usually become flustered when asked to speak in a crowd. Miss Kennedy would often tell of an incidence when he was asked to pray the blessing at a dinner. His shyness confounded his tongue as he blurted:
"Lord, we thank Thee for our sins.
Bless a portion of them to our use,
And forgive this food. Amen."
Miss Kennedy would tell this with the greatest respect to a humble and sincere man who loved the Lord. Well, now ally - he had all the correct words.
On a colorful autumn day in 1966, a hush descended o'er Misses Kathleen Kennedy & Louise Ash's field of service. The last eight children (four were children of a young boy who started at the Ona SCHOOL) were transferred to Davis-Stuart Children's Home in Lewisburg, WV. The two friend's professional season of loving care had ended their sheaves were stacked.
The "DREAM" (by a secular measure) had been officially fulfilled on that solemn autumn day. As many as 23 children were in residence at one time. Some found safety and refuge from a few days old to maturity - some stayed only a short time. After 15 years at Ona and 24 years on Newmans Branch, for a total of 39 years, Misses Kathleen Kennedy & Louise Ash retired in 1966. They selected a house on Howell's Mill road (present home of Jerry and Mary Rose) within sight of the stone mansion they had enthusiastically cleaned for the first time in 1927. Their retirement home was called "T'will Do". One of their 50 children, Fred "`Bubber" Prichard lived with them. Miss Lucy Prichard frequently visited on weekends along with a host of their other children and their children. A large dining room was added to accommodate the reminiscent gatherings. If all 50 could have dined at "T'will Do", they would have certainly rewarded "Kak Kak" (Miss Kennedy) and "Mom Mom" (Miss Ash) with resounding accolades of love and gratitude.
The two altruistic ladies would often sit on the front porch of "T'will Do" and gaze at the PRICHARD SCHOOL bound together by native stone and hand-mixed mortar. They would no doubt remember another front porch. And it's a sure bet that the many years with their children would recycle in their mellow thoughts. They had bound together a host of homeless children into responsible adults with their hands-on care and devotion. Many little hearts and minds received the warmth and security of belonging to a family during a most vulnerable time in their lives.
The last sweet memory faded from Miss Ash's contented mind on Thanksgiving day, 1974. Miss Kennedy went to be with her friend on 5 April 1983. During their twilight years, a thankful lady returned the love she received when a child in the PRICHARD SCHOOL. She was their mentor and primary caregiver, and made arrangements for their earthly bodies to rest in peace - Miss Ash in her family plot at Athens, Georgia and Miss Kennedy in her family plot at Pulaski, Tennessee. It should go without saying that, in Heaven, they are again "doing something together"'. Fred C. Prichard will surely join in - he had been waiting in his HEAVENLY HOME for them since 1962.
During his earthly sojourn, he gave his "all" so unfortunate children could have a home. Because of this, he became an "unfortunate" without a home of his own. His last days were spent in a Texas Boarding House. Fred C. Prichard once had the whole loaf, but gave and gave until only crumbs remained. Chuck "B. B." Everette, and the other children at the Milton SCHOOL, would write to him on his birthday and at Christmas time. Chuck calls Fred C. Prichard a HERO. This author (Buddy Beckett) agrees!
The citadel is still on a commanding height. It now overlooks the ONA AIR PARK instead of the herd of Guernsey cows T. A. Chapman, Frank Morrison and Dutch Jordan once milked the old fashion way. Airplanes may now whiz by, but memories of those quieter and less cluttered days still linger for the ones privileged to have known the principals and children of the PRICHARD SCHOOL.
In 1992, Miss Lucy Prichard best described the essence of Fred C. Prichard's "DREAM":
"Miss Louise Ash and Miss Kathleen Kennedy, who - in a very real sense - were THE PRICHARD SCHOOL
Life at the PRICHARD SCHOOL was not all hard work and scrimping and saving to pay bills. The Home was earlier portrayed as an integral part of Ona and Howell's Mill. That could possibly be an understatement. The SCHOOL promoted activities that actually placed it as the "hub" of the two communities.
Misses Kennedy & Ash had a great responsibility to rear and educate their children - starting with seven and as many as 23 at one time. They knew the social benefits of having them associate with other children and adults. During the late 1920's, the 30's and early 40's, they actually opened the doors with an earnest invitation to others to come into their orderly establishment.
Each Sunday afternoon at 2PM, Ona and Howell's Mill children and adults were invited to a Sunday school service with the resident children. Andy Turner of Yates Crossing was the Superintendent for a while. Elmer Waugh of Big Cabell Creek succeeded Andy. Sometimes, the Minister of the Milton Presbyterian Church would conduct the service. Every other Friday night, dozens would come to play the card game of Rook. The gracious hostesses would serve their famous homemade cookies and candy. The alternate Friday nights a famous message would be served at a Prayer Service that was also well attended. But to the community kids, "famous," was the Annual Christmas Party with Dr. Karl Prichard attending. It consisted of a banquet with more food than most kids had ever seen. in addition to the bountiful celebration of festive nourishment, a beautiful decorated Christmas tree was standing tall in the Chapel. Community children who attended the afternoon Sunday school received a wrapped present. Dear Readers, can you imagine how little hearts would beat when receiving a gift during the Depression Years?
As many as 135 attended the Christmas Parties - this is a fitting testimony to the hospitality extended to surrounding communities. Yes, the PRICHARD SCHOOL at Ona was truly a "hub". Or maybe better said - an oasis of spiritual guidance, entertainment and fellowship. A place where rural families found a bit of laughter and brightness during uncertain times leading up to World War II.
This was successfully expressed in a Stage Play, "LOOK ME IN THE EYE", produced by the SCHOOL in 1941. Alma Jordan Rimmer of Ona directed the laugh-filled Play. The cast consisted of talented people from both the SCHOOL and the community. The play was so well received that the cast "went on the road" to three locations, one was Harveytown in Huntington. The purpose of the Play was two-fold. The year 1941 was a particularly lean time. The new owners had been raising rent since 1938 and the small fee charged for admission helped with expenses. But a more lasting attribute of the production was the unforgettable fun times during rehearsals and the cast's pride to have made others laugh during a scary time.
Cast members are listed below:
FROM THE SCHOOL - Mildred Judd, Frances Justice and Allie Estep
FROM THE COMMUNITY - Gene Caldwell, Mildred Morrison (later Caldwell), Oliver Beckett, Homer Fowble, Virginia Adkins, Alice Luellen, James Rimmer and Rose Helen Adkins
A young man and a young woman, John Rimmer of Milton and Judy Kay Rimmer Lawson of Ona indirectly owe their existence to Misses Kennedy & Ash and the PRICHARD SCHOOL. Their parents, James Rimmer of Howell's Mill and Rose Helen Adkins of Yates Crossing, met and fell in love while rehearsing "LOOK ME IN THE EYE".
The waxing of that providential meeting in 1923, between three of God's obedient servants, is awesome in scope and tangible results. Beyond the homeless children who were given a chance in life, the trio touched countless others within their sphere of influence. They provided a livelihood for some. And all that entered the stone mansion found a harbor of encouragement, laughter and entertainment that changed worried frowns to smiles. T. A. Chapman hand-milked cows and cleaned the barn for one dollar a 10-hour day. That small amount for a long day's work may be humorous today, but he had a chance to pay a rent debt for his parents. A young girl, Lou Woosley, left Grundy with the matrons in 1927 and was later employed at the SCHOOL. She had a chance to leave the foreboding Grundy town and live in a new house with a view.
The children and the SCHOOL staff affectionately called Fred C. Prichard "Daddy Prichard". Why did he have such a noble dream? Was his meeting with the two young college friends accidental? When total results of their "meeting" are honestly evaluated in light of happiness in extended families and protracted memories, the answer would surely be -
"TO GOD BE THE GLORY"
SOME MEMORABLE ANECDOTES
BY Miss Lucy Prichard
Lucy was present and even participated in some of her entertaining stories. Misses Kennedy & Ash, however, related most stories during her childhood.
Here's three about the lovely town of Grundy, VA in the early 1920's:
Misses Kennedy & Ash traveled to Grundy by train. After the last leg of their trip on the train, the remaining few miles were by a horse-drawn wagon that included a woman and a baby. The roads were so narrow that if two wagons met, one would be picked up and set off the road until the other had passed. Then, the set-aside wagon would be placed back on the road. It started raining before they reached Grundy. The woman with the baby was wearing a feather-decorated hat. Dye from the feathers dripped onto the baby - "Until it looked like an Easter egg." to quote Miss Kennedy.
The terrain was so steep that it was not uncommon for grazing cattle to fall off the mountainside and crash through the roof of the cabin below.
One of Miss Kennedy's favorite stories was about a Revival being held at nearby Haysi, VA. The preacher had chosen to preach on: "Is there a Hell ?" Some of the Grundy people attended the service. By the time they had returned home, they had reached the conclusion that if there is a Hell - Grundy is IT.
Here's a story Miss Ash often told about her grandmother who raised 10 children:
It seems that one of her children had taken a spill off the barn roof. When Miss Ash's grandmother was told of the incident, she paused in her activity long enough to observe: "It's such a hazardous trip from the cradle to the grave, it's a wonder anyone makes it." Miss Ash must have recalled this story often in the ensuing years.
Lucy tells a story about Miss Kennedy:
At the time Prichard SCHOOL occupied the site at Ona, the surrounding area was less densely populated than it is at the present time. "Kak Kak" told Dr. Prichard that her brothers had taught her to shoot, and she felt she would be better able to protect the children if she had a gun. She persisted in her pleas until he brought her a pistol, which he procured from the Huntington Police Department. One foggy night "Kak Kak" noticed an intruder approaching the house. She got the gun and called the intruder to halt. The intruder continued to advance. In desperation, she issued another warning and took aim. She pulled the trigger - the gun fell apart and the cow mooed.
A story from the Ona SCHOOL -
The children slept in Dormitories, with the very youngest being relegated to the Nursery. Two of the Nursery occupants had developed the habit of talking themselves to sleep each night. One night, these two children talked themselves to sleep while arguing over whether they were going to discuss polecats or skunks.
A story from the Milton SCHOOL
After the Second World War was ended, one of the girls from the first group (the Ona SCHOOL) chose to get married in the parlor of the School at Milton. One of the younger boys was to be the ring bearer. The rehearsal went beautifully. During the actual wedding, they had to stop the ceremony to go searching for the ring bearer. They got him as far as the parlor door, where he balked and announced, "I am not! They got married last night. They don't need to get married again, and I'm not bringing in the ring.
Here's a story about a baby helping with the turkeys at the Ona SCHOOL -
"Kak Kak" and "Mom Mom" made a practice of putting me in a carriage, which was then wheeled out to the front porch for a specified period of time each morning. One of the turkey hens took up the habit of laying an egg on the foot of this carriage every day.
Click on the link below for pictures of the Prichard School.